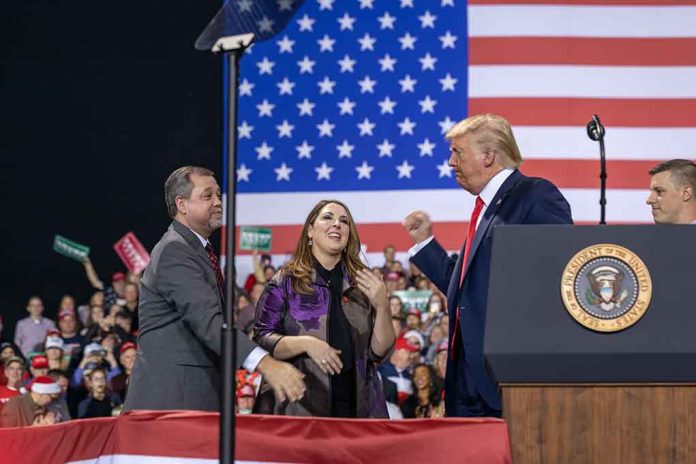 (RepublicanJournal.org) – Republican National Committee (RNC) chair Ronna McDaniel made a bold move during a recent interview on CNN's "State of the Union." The newly re-elected chair told host Dana Bash all GOP candidates would have to sign a pledge promising to support whoever wins the party's nomination. She insists the decision will unify the Right even though it has sparked criticism among some of her fellow conservatives.
RNC chair says requiring loyalty pledge for participation in GOP presidential debates is a 'no-brainer' | CNN Politics https://t.co/kKjlDtAPO4

— _ReportWire (@_ReportWire) February 26, 2023
McDaniel won't allow candidates on the debate stage if they don't sign the agreement. The RNC chair feels the pledge will be a good first step toward mending a divided party and moving forward on a unified front. She noted the nomination represents the will of the voters, which deserves party support. As part of her reasoning, she also cited 2016's pledge, which all 17 candidates signed in September 2015, calling the decision "a no-brainer." Yet, the agreement unraveled by March 2016, when Trump publicly stated he no longer supported it.
Trump's stance doesn't appear to have changed. He told CNN he would be fine with a new pledge because he expects to win the GOP nomination — but the former president also previously said he would have to see "who the nominee was" before committing either way.
The New York Post released an editorial on the decision, calling it "nothing but a lame attempt to paper over the party's stark divisions over ex-President Donald Trump." Ultimately, according to The Post, many conservative voters are set against the former president, while some wouldn't willingly support anyone else, and no piece of paper will change that.
Numerous conservatives have also spoken out against McDaniel's announcement. The Daily Beast reported Sen. Mitt Romney (UT), the RNC chair's uncle, has already stated he wouldn't support the nomination if the GOP chose Trump. Asa Hutchinson, a former Arkansas governor, and Paul Ryan, a former Wisconsin GOP representative who once served as Speaker of the House, shared similar sentiments.
Copyright 2023, RepublicanJournal.org