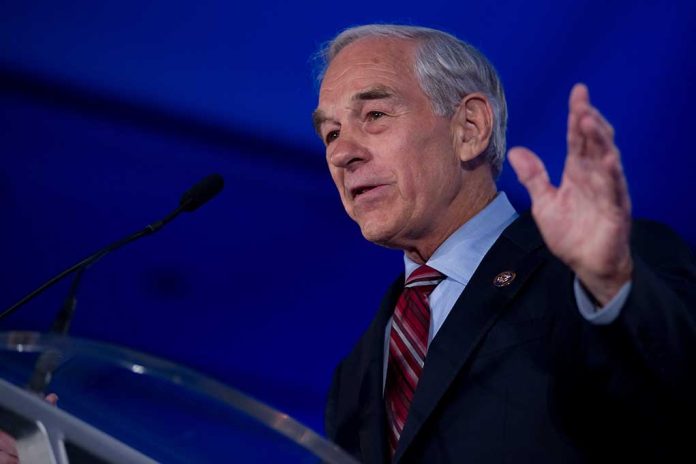 (RepublicanJournal.org) – Since Russia's latest war in Ukraine began nearly a year ago, the defending nation has asked its western allies for aid in a variety of forms. Many countries, including the United States and Britain, answered the call, but Russia has threatened to use nuclear weapons if these relationships continued and strengthened. Former House Representative Ron Paul (R-TX) recently asked if Americans were okay with such a development.
On Thursday, January 19, Paul shared a video addressing the recent threats from Russian President Vladimir Putin to use nuclear weapons if the US assists Ukraine in any way in taking back Crimea. Russia annexed the peninsula back in 2014 and has tens of thousands of troops still stationed there.
U.S. May Risk Nuclear Conflict, Over Crimea? Are Americans OK With This?

Watch the whole show here: https://t.co/w9XYp4s3z2 pic.twitter.com/MOeHsAk215

— Ron Paul (@RonPaul) January 19, 2023
The US has long acknowledged that Crimea belongs to Ukraine, although the government has not provided the foreign country with the firepower needed to take back the area. On Wednesday, January 18, the New York Times published an article stating that multiple US officials believe President Joe Biden is "finally starting to concede" that in order for Ukraine to win the war, it needs missiles able to hit the peninsula.
Terrifying.https://t.co/odGszTAPP6

— Dinesh D'Souza (@DineshDSouza) January 22, 2023
If Ukraine gets a hold of long-range missiles for attacking Crimea, it would likely target Russian strongholds and staging grounds. It's also likely to target the Kerch Strait Bridge that connects the peninsula to mainland Russia. Ben Hodges, the former Commanding General of US Army Europe and now a senior advisor at Human Rights First, told The Hill that Ukraine understands it cannot allow Russia to keep Crimea, emphasizing the country "will never be safe or secure or able to rebuild their economy so long as Russia retains" it.
This situation poses quite an issue. The fighting between these two countries may never stop if Ukraine does not retake its peninsula. However, if the rest of the world aids the nation in doing so, it could lead to a nuclear strike or even World War III.
Copyright 2023, RepublicanJournal.org