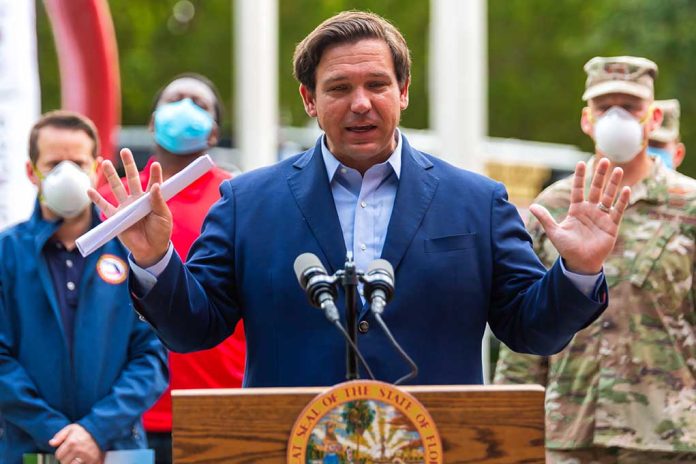 Ron DeSantis Just BURNED "The View" – Makes Them Look Stupid!
(RepublicanJournal.org) – Florida Governor Ron DeSantis (R) is growing in popularity among conservatives seemingly all of the time. The no-nonsense Republican first came to the nation's attention when he began rejecting draconian COVID-19 containment measures during the pandemic, prioritizing the liberty of Floridians. Many are now suggesting he could be the GOP's nominee for the presidential election in 2024.
Of course, with this kind of conservative popularity, one often attracts liberal ire. On brand, DeSantis was recently forced to respond to criticism from the left-wing panelists on "The View," a program on ABC.
DeSantis Rubbishes Suggestions He Is Scamming Donors
Last week, panelists on "The View" discussed the governor's fundraising efforts ahead of his next election in November of this year. It was estimated that the incumbent will manage to raise $200 million ahead of the vote, and that this will far exceed what he'll need for the upcoming race. Therefore, the panelists speculated, DeSantis will end up with a "war chest" for a subsequent presidential run.
Guest Alyssa Farah Griffin implied that the governor's fundraising website had a function that was tricking donors into agreeing to recurring payments toward the campaign despite intending to pay only once. She denounced the alleged move as "unfair" and "terrible."
Ron DeSantis responded to the allegation during a press conference on July 18. He strongly rejected Griffin's implication that he uses an "auto-donate" feature on his website. While there is a function that allows for recurring donations, the governor stated that this is an opt-in feature, not something that users select by default. He explained that many of his donors have "limited" incomes, and that repeated donations are not an option for them.
Fact-checkers on social media backed up DeSantis' claims. As you can see in the tweet below, you must check a clearly marked box if you want to make recurring donations to DeSantis' campaign.
Putting aside Alyssa Farah calling something a "grift"— I just checked & the WinRed donation page for DeSantis's gubernatorial campaign does not automatically make a donation a recurring one, but instead it's a box you have to voluntarily select yourself.https://t.co/Nflc1Nt4lf https://t.co/rmlTDkCb2Q pic.twitter.com/kCotEqJ8Xy

— Jerry Dunleavy (@JerryDunleavy) July 15, 2022
Where Next for Ron DeSantis?
Despite the liberal media's many and varied attempts to damage him, Ron DeSantis is continuing on his journey to the top. Polling over the last two years has generally portrayed former President Donald Trump as the clear frontrunner for the Republican presidential nomination in 2024, but that's starting to change. For example, a recent poll of Michigan voters found that DeSantis and Trump were roughly even in a hypothetical primary match-up in the state. Only time will tell which candidate prevails.
So, what do you think? Were the commentators on "The View" deliberately aiming to smear Ron DeSantis in yet another left-wing push?
Copyright 2022, RepublicanJournal.org