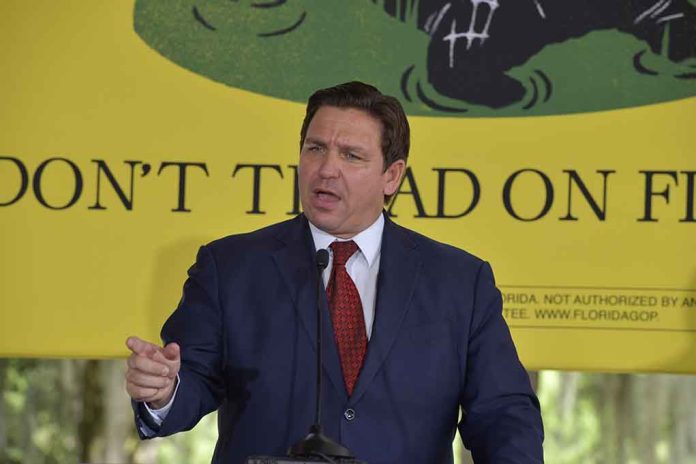 (RepublicanJournal.org) – Florida state Sen. Jason Brodeur (R) recently introduced SB 1316, a bill specifically targeting bloggers who write about the state's elected leaders. Headlines have turned up connecting Florida Gov. Ron DeSantis to the outrageous bill, but the popular Republican trendsetter says the media is using his image as click bait to promote legislation he doesn't support.
'Not a Concept I Support': DeSantis Calls Out Media Using His Picture for 'More Clicks' on Blogger Registration Bill He Doesn't Advocate https://t.co/EVlxd7aRZy

— Mediaite (@Mediaite) March 8, 2023
SB 1316 would have anyone profiting from political posts about the governor, lieutenant governor, members of Florida's Legislature, or state cabinet members to register with the Office of Legislative Services or the Commission on Ethics — whichever is applicable. Bloggers would have five days to report their first offending post, and they would have to file monthly reports if they continued writing qualifying political content for profit. Failure to do so would lead to fines of $25 per day, with a cap of $2,500 per post. The bill wouldn't affect professional news outlets, only individual Americans exercising their First Amendment rights.
DeSantis was quick to set the record straight. According to Mediaite, and he's publicly denounced the bill. The conservative leader stated media groups "get more clicks" by using his picture, shaming those that promote lies simply to gain more traffic. In truth, he is far from a censorist, as demonstrated by the Digital Bill of Rights he introduced in February to protect the people in his state from oppressive practices.
Confusion over his stance may have arisen because DeSantis and Brodeur both support a separate measure that would make defamation lawsuits against media companies easier to pursue. SB 1220 would make journalists vulnerable to litigation in cases where malicious intent or negligence was clear — a proposal DeSantis has actively pushed, according to the AP News.
Regardless of how media outlets mistakenly formed a connection between DeSantis and SB 1316, the Florida governor has made his opinion clear. He wants nothing to do with censoring anyone.
Copyright 2023, RepublicanJournal.org