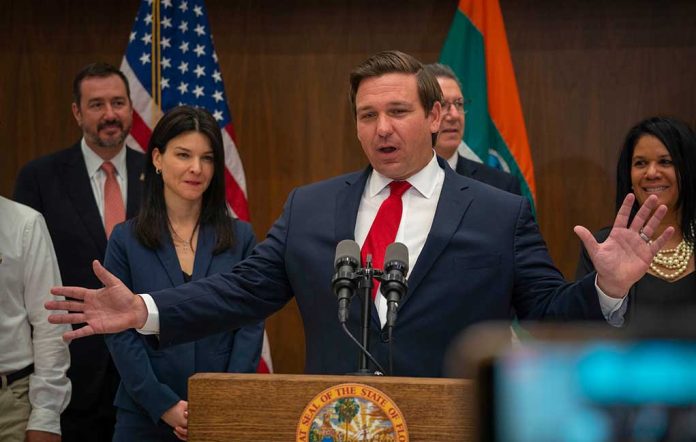 It's WAR – Ron DeSantis Reveals His Next Target
(RepublicanJournal.org) – Firebrand Florida Governor Ron DeSantis (R) never backs down from a challenge. He has repeatedly taken on what he sees as liberal overreach; this year, his highest-profile project has been the Parental Rights in Education bill, which places strict limits on the LGBTQ+ content teachers can share with younger children. Now, the state leader is going after what he describes as "woke CEOs."
During an address on Wednesday, July 27, the governor announced a new legislative proposal that will take aim at left-leaning corporate leaders. He accused big companies of "imposing woke ideology" when it comes to economic issues. The popular conservative continued by claiming this practice was widespread in corporate America, that it had a presence in tech, finance, and elsewhere.
He discussed environmental and social governance (ESG) specifically. DeSantis explained that his proposal would attempt to prevent State Board of Administration (SBA) fund managers from taking ESG into account when making investments with a view to building pensions for public employees.
Gov. Ron DeSantis slams "woke capital" and ESG: "For every master of the universe who's prattling on about, you know, no emissions and all this stuff, I don't see very many of them giving up their private jets." pic.twitter.com/iDy7wsziLv

— Forbes (@Forbes) July 27, 2022
The legislation will also stop financial companies from discriminating against users on the basis of their social, political, or religious beliefs, according to reports. Additionally, it will require SBA fund managers to take only potential profits into account when making investment decisions.
Do you think this bill would be a step in the right direction?
Copyright 2022, RepublicanJournal.org