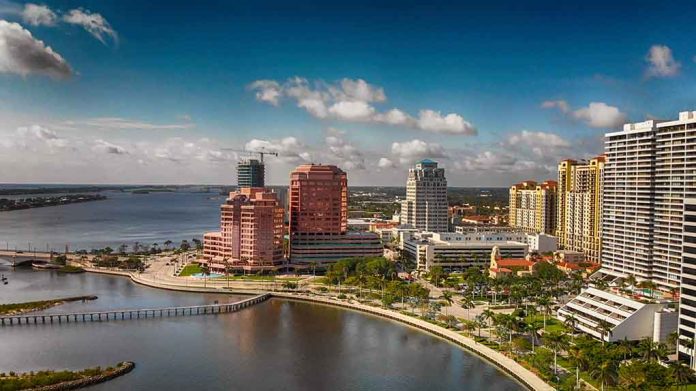 (RepublicanJournal.org) – Former President Donald Trump and former South Carolina Governor Nikki Hailey are the first two GOP candidates to put their names in the hat for the 2024 presidential bid, but many Republicans are waiting for Florida Governor Ron DeSantis to do the same. The conservative leader appears to be rallying supporters and gaining momentum. He just hosted a multi-day event for donors and political influencers near Trump's Mar-a-Lago estate, and quite a few of the former president's supporters were there.
During the weekend of February 25, DeSantis hosted over 100 various conservatives at the Four Seasons for a few days of workshops, discussions, and talks from him and other Republicans. The docket included chats over election reform, the US healthcare system, and security at the southern border.
Many people believe that the events, which occurred just four miles from Mar-a-Lago, were a clear move from DeSantis trying to take supporters from Trump on his own turf. Former co-chair of Trump's Texas finance operation, Doug Deason, who supported the president for years, told The Washington Post that while he believes Trump was "the best president of our lifetime… it's time for a new[sic] fresh face and new blood."
Longtime Trump backers flock to DeSantis event https://t.co/4VaSzMGqtS

— POLITICO Pro (@POLITICOPro) February 25, 2023
Attendees at DeSantis' event included:
Trump's acting chief of staff, Mick Mulvaney
Tennessee Governor Bill Lee
Oklahoma Governor Kevin Stitt
Wisconsin Senator Ron Johnson
Iowa Governor Kim Reynolds
Fox News host Laura Ingraham
DeSantis' event, which could be the start of his 2024 presidential bid, began just a day after Trump hosted a smaller fundraiser at Mar-a-Lago. It also kicked off the same night that conservative strategist Karl Rove hosted other presidential hopefuls in Austin, Texas for a donor conference.
The anticipation of the next presidential race appears to be growing. So are the coffers of future campaigners as they figure out how to raise the money necessary to launch their bids.
Copyright 2023, RepublicanJournal.org