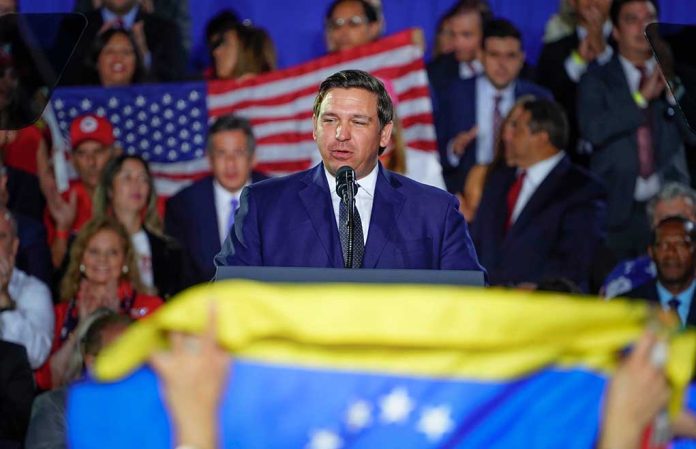 Trump in Trouble? – Here's Who Might Take Him Out
(RepublicanJournal.org) – We're currently gearing up for the midterm House and Senate elections, but many analysts are already looking forward to 2024. With former President Donald Trump back in the news headlines following the FBI raid on his Mar-a-Lago home, some conservatives are wondering whether he's too politically damaged to retake the White House for a second term. One name many people have mentioned in this discussion is that of Florida Governor Ron DeSantis (R).
Why DeSantis Is an Attractive Candidate
Governor DeSantis has risen continuously in the estimation of the GOP voter base since he started winning elections in Florida. The Jacksonville native, US Navy veteran, and college baseball star entered politics in 2012, when he won his race for the US House of Representatives. After reclaiming this seat twice, he successfully ran for governor of Florida in 2018.
During his time in his current position, DeSantis has risen to national acclaim among conservatives by rejecting liberal ideas like the teaching of LGBTQ+ topics in schools, gun control, laissez-faire immigration policies, and vaccine, testing, and mask mandates. He has been a fierce public opponent of the Biden administration on many key issues.
Unlike many other high-profile Republicans, DeSantis has refused to rule himself out of the next presidential race in the event of a Trump candidacy.
Trump v. DeSantis
Donald Trump's story is a little different. He's still the most influential Republican in the nation, and his voter base retains the belief he can do no wrong. However, he may lack the broader appeal that's needed to win presidential elections.
Even Republicans who support Trump and his policies recognize the scandals following him have hurt his electability. This portion of the electorate may opine that Ron DeSantis shares Trump's positive aspects (his conservative values and no-nonsense attitude) but not his negative ones.
Certain polls have shown a weakening in support for Trump, notably one New York Times/Siena College study from July of this year, which presented the Florida governor as his biggest threat.
DeSantis and Trump were initially closely politically aligned. The former president endorsed the governor in the race for his current position. Nonetheless, since DeSantis' presidential ambitions have become clearer-cut, relations have grown frostier between the pair. Earlier this year, the governor announced he was not asking Trump for endorsement in his bid to reclaim the gubernatorial office in November. Also, the 45th president remarked in June that he'd beat DeSantis in a primary race if the latter decided to run against him.
Who would you vote for in a Ron DeSantis v. Donald Trump primary?
Copyright 2022, RepublicanJournal.org