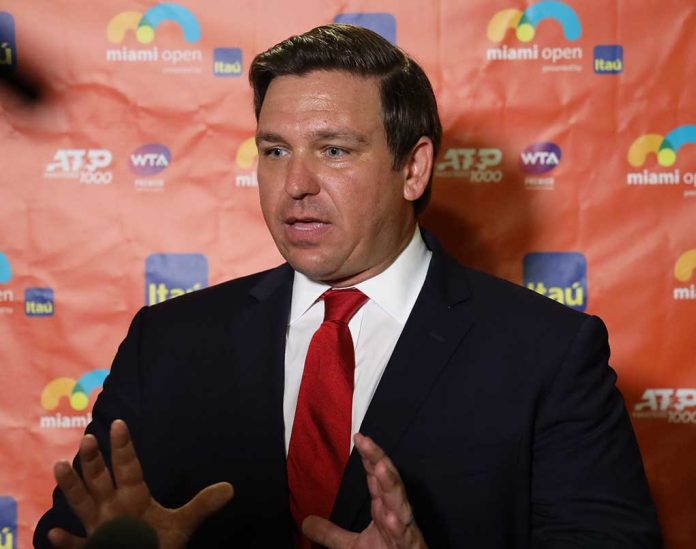 Ron DeSantis Reveals Stance On CHILD LAW – It's Very Important
(RepublicanJournal.org) – Florida Republican Governor Ron DeSantis has been garnering praise from conservatives across the country lately for what they perceive as his commonsense stances on transgender issues. The governor's latest remarks on the topic have sent tongues wagging once again.
On Monday, May 2, "The Truth with Lisa Boothe" podcast aired an episode with Governor DeSantis, touching on a range of key issues over the course of just beyond 38 minutes. During the interview, Boothe asks about DeSantis' take on the treatment of gender dysmorphia. Specifically, she asks the governor to explain his thoughts in the context of the Florida Department of Health's guidelines discouraging interventions like puberty blockers. DeSantis says he would put a ban on gender reassignment treatments for young children.
DeSantis Says He'd Support A Law Banning Gender Transition Surgeries On Children: 'There Should Be Additional Protections' https://t.co/zN3XDd9y0g pic.twitter.com/plaKHGHeYs

— Daily Wire (@realDailyWire) May 3, 2022
The governor outlines his administration's belief that kids are not mature enough to make such permanent decisions about their gender. He highlights the fact that 12-year-olds cannot choose to get tattoos, and also cites government statistics which reportedly state that 80% of gender dysmorphia cases in youths resolve themselves by adulthood.
This data clashes with the Biden administration's view on gender reassignment. In a White House fact sheet published earlier this year, the administration expresses its support for "gender affirming care" for young people who have gender dysmorphia.
What do you think of Governor DeSantis' actions and statements on this matter?
Copyright 2022, RepublicanJournal.org