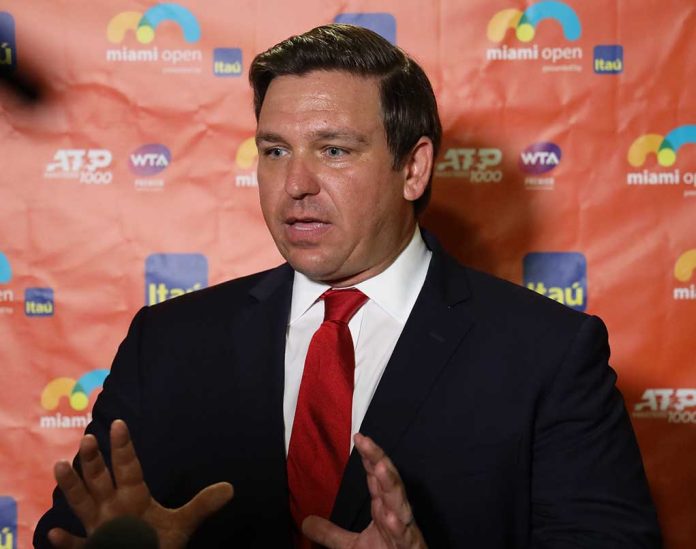 (RepublicanJournal.org) – Many Americans are expecting Florida Governor Ron DeSantis (R) to announce a 2024 presidential bid in the next few days. The move would add the popular conservative to the mix of Republican White House hopefuls, which includes former President Donald Trump and former South Carolina Governor Nikki Haley, both of whom have already begun campaigning. The 45th president was scheduled to hold a rally in Des Moines, Iowa, this past weekend, but his campaign canceled it due to inclement weather. Seeing this change, DeSantis swooped in to speak with conservatives who had hoped to see the former president, just blocks from where Trump was supposed to speak.
On Saturday, May 13, DeSantis appeared at a picnic hosted by US House Representative Randy Feenstra (R) in Sioux Center, Iowa. Speaking to the crowd, the Florida leader emphasized he could "provide a positive alternative for the future of this country," according to ABC News. Just hours later, after hearing that Trump canceled his rally due to potential tornadoes in the area, the conservative governor traveled to Jethro's BBQ in the state capital of Des Moines for an unannounced visit.
After Donald Trump canceled his Des Moines rally for inclement weather, Ron DeSantis added an unscheduled stop at a BBQ restaurant just down the road from where Trump was set to appear. He and his wife Casey are standing on a table talking to the crowd now pic.twitter.com/Ybxz2CVgva

— Brianne Pfannenstiel (@brianneDMR) May 14, 2023
Trump's canceled rally was supposed to be among his first campaign appearances since a New York jury announced he is liable for sexual assault and defamation of E. Jean Carroll and ordered him to pay her $5 million. While his campaign promised to reschedule the event, it has not yet announced a new day. DeSantis made a clear statement by appearing just a few blocks away from the canceled rally that he is ready to take any supporters from his potential competition that he can.
Later the same day, DeSantis and his wife attended a sold-out Iowa Republican Party reception in Cedar Rapids. According to NBC News, both the GOP picnic earlier in the day and the dinner benefit in Illinois that the governor attended on Friday night sold out, showing a trend that conservatives are truly excited for a viable alternative to President Trump.
Copyright 2023, RepublicanJournal.org