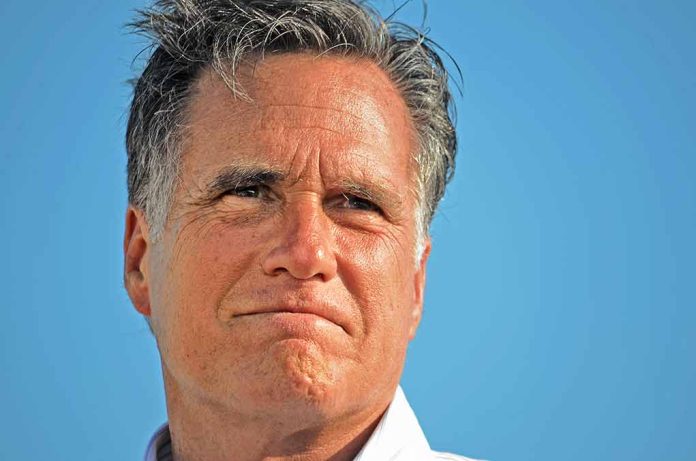 (RepublicanJournal.org) – Senator Mitt Romney (R-UT) has had a long and varied career in US politics. Over the last 20 years he's been governor of Massachusetts, run for president twice and, since 2019, he's represented Utah in the US Senate. Now he's decided he's done enough; he won't be seeking re-election next year and, at 76 years old, he thinks it's time to step back, let a new generation of politicians take over, and enjoy his retirement. And he's invited President Joe Biden to join him.
A Mixed Political Career
Willard Mitt Romney was born in Detroit, Michigan, on March 12, 1947, and grew up in the affluent suburb of Bloomfield Hills. He was educated at a private Mormon prep school, then Stanford University. After graduating, he spent 30 months in France as a missionary for the Church of the Latter-Day Saints. He went on to gain a law degree from Harvard then went into business consulting.
Romney first got involved in politics in 1994, when he ran an unsuccessful campaign as a Massachusetts candidate for the US Senate. After losing he told his brother, "I never want to run for something again unless I can win."
In 2002, he found something he could win and was elected as governor of Massachusetts, a post he held until 2007. The next year he ran for the Republican presidential nomination, losing to John McCain, who in turn lost the election to Barack Obama. Romney next ran for Utah's vacant Senate seat in 2018, replacing Senator Orrin Hatch (R-UT). In the Senate, he made a name as a moderate Republican and opponent of former president Donald Trump.
Romney Retires
On September 13, Romney announced that his current political post will be his last; when his Senate term expires he'll be standing down, instead of seeking re-election next November. In a statement he said that if he served another term he'd be in his mid-80s by the end of it, adding "Frankly, it's time for a new generation of leaders." He also blasted both likely candidates in next year's presidential race for failing to confront the challenges the US faces — "mounting national debt, climate change, and the ambitious authoritarians of Russia and China."
Romney's decision to retire, and his open admission that it's because of his age, come at a tense time. There's a growing call for term limits on federal politicians; Senate Minority Leader Mitch McConnell (R-KY) has had a series of alarming public malfunctions recently, and the Democrats have only just managed to persuade 90-year-old Senator Dianne Feinstein (D-CA) to step down next year. Then, of course, there's President Biden, who is declining visibly and had to be cut off by his own press secretary after an embarrassing speech in Hanoi on September 10.
Talking to reporters on September 13, Romney called on Biden and Trump to "stand aside and let their respective party pick someone in the next generation." He then recalled Biden's words from his election campaign, when the president described himself as a "transitional figure" who would hand over to the next generation. Romney challenged Biden to live up to his promise, telling him "Well, time to transition." If the much younger (and mentally more competent) Romney thinks it's time to retire, perhaps Biden will finally get the message too.
Copyright 2023, RepublicanJournal.org