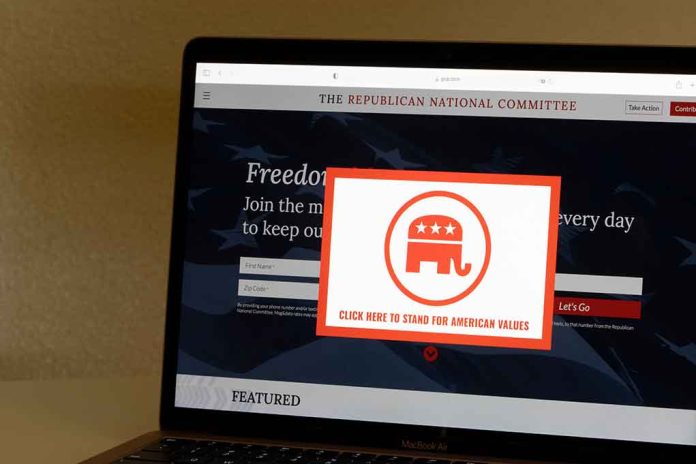 (RepublicanJournal.org) – Former President Donald Trump is currently in the process of launching a third bid for the White House. However, he's dealing with a very different landscape within conservative ranks than he was the last time he campaigned. Many Republicans have turned against him because of controversies related to election fraud allegations, the January 6 insurrection, and other issues. An explosive new report from Politico contains allegations that officials in the Republican National Committee (RNC) are quietly hoping for the former president's arrest, which could allow the party to move on without him.
Recent Backlashes
The former president has been dealing with fresh issues in the last few weeks. Last month, he held a dinner with controversial musician and fashion designer Ye (formerly known as Kanye West) and well-known white supremacist Nick Fuentes. Trump tried to distance himself from the pair after reports of the meeting emerged, saying he had not previously known Fuentes. Though, multiple analysts have stated the guest would not have made it inside Trump's Mar-a-Lago home without significant screening by Secret Service agents.
More recently, Trump-endorsed candidate Herschel Walker lost to Senator Raphael Warnock (D-GA) in the Georgia runoff election for the US Senate. That result capped off a dismal election for Trump-backed candidates.
What Michael Steele Had To Say
Former RNC Chair Michael Steele spoke to Politico about Trump in the context of the upcoming battle for the chairmanship of the organization. Current chair Ronna McDaniel, an ardent supporter of the former president, appears likely to win despite facing fierce intraparty criticism.
Steele said the MAGA wing of the party remains the dominant one despite Trump's recent difficulties. He added that the former president remains the most likely winner of the next presidential primary battle in 2024, if only because of the technicalities of the RNC's electoral process. The former RNC chief explained that Trump loyalists have become increasingly dominant in state GOP organizations since 2016. While the dominance of MAGA ideas is shifting to some degree within the party, he claimed, the RNC as an organization is still supportive of the 45th commander in chief.
Even so, not every RNC official feels the same way. Steele remarked that he has had private discussions with committee figures who want Trump to end up "sitting in a holding cell" by the time of the next election.
How do you feel about Michael Steele's comments? Are they motivated by anti-Trump bias, or is he telling the truth?
Copyright 2022, RepublicanJournal.org