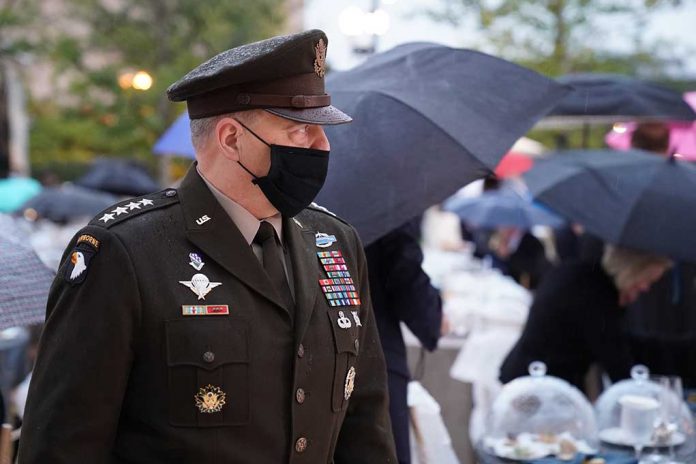 (RepublicanJournal.org) – The US military completed its long-awaited withdrawal from Afghanistan on Monday, August 30, just minutes ahead of the August 31 deadline. As Americans know, however, the withdrawal went horribly wrong. Now, President Joe Biden faces increasing political pressure over his perceived failures on the project, and senior military leaders are also being scrutinized.
Retired Military Leaders Make Their Voices Heard
Almost 90 retired military operatives with the rank of general or admiral have published an open letter seeking the resignation of Joint Chiefs of Staff Chair Mark Milley and Secretary of Defense Lloyd Austin. They state the pair should have persuaded Joe Biden not to pursue his hasty withdrawal strategy or resigned in protest if the president pursued it despite their objections.
90 Retired Flag Officers Call on Gens. Mark Milley, Lloyd Austin to Resign over Afghanistan https://t.co/ou2TGA1VaX

— Aerial SharpShooter 🇺🇸🇯🇵🏴‍☠️ (@MMCBELL) August 31, 2021
The letter continued, noting the damage the situation in Afghanistan has done. It mentioned the untold numbers of Americans and Afghan allies who remain in dangerous, Taliban-controlled territory. It also notes the United States' damaged international reputation and the amount of expensive, high-impact military equipment our forces left behind for the Taliban to use.
Worryingly, because of the "weakness displayed" during the withdrawal, the admirals and generals believe America is now under threat of attack by foreign adversaries like China, Iran, Pakistan, Russia, and North Korea. 
A Deepening Crisis
The United States invested an estimated $83 billion into equipping and maintaining Afghanistan's domestic military and police forces. This is with the intention the government could preserve democracy and protect its citizens following US and NATO troop withdrawals.
Instead, the Taliban took over many important cities, including the capital of Kabul. As the retired admirals and generals noted in their open letter, much of the American investment now directly benefits the Taliban. 
Not only that, but President Joe Biden's botched withdrawal cost American lives and those of innocent Afghans. Thirteen US military members lost their lives following a suicide bomb attack at Kabul's international airport, along with over one hundred Afghans. At least 150 more people suffered injuries from the blast.
Clearly, future generations will view the US mission in Afghanistan as a costly exercise in futility. The question of who should take the blame and how much remains open for discussion, but few people have emerged unscathed.
Copyright 2021, RepublicanJournal.org