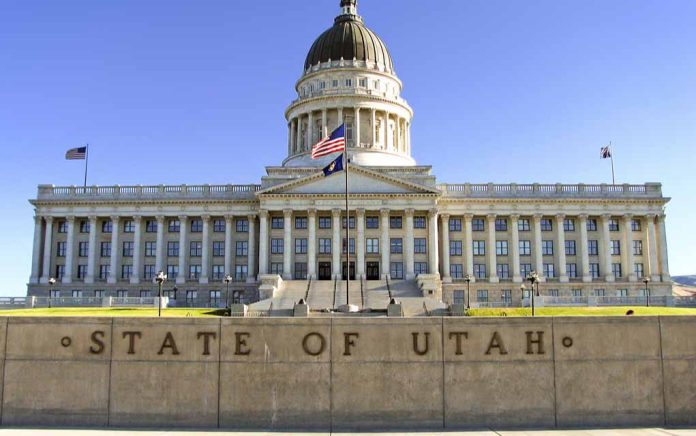 (RepublicanJournal.org) – State Senator Mike Kennedy (R-UT) recently found angry words spray painted across his garage doors. The Utah conservative was apparently targeted for sponsoring a bill that has left the transgender community up in arms. The vandals wrote "Fash," for "fascist," on one door, and the message, "These trannies bash back," extended from the second door onto the pavement below.
Utah state Sen. Mike Kennedy 's home vandalized after sponsoring transgender bill https://t.co/3TYWfwQja1 pic.twitter.com/eN76nh29m0

— New York Post (@nypost) April 22, 2023
SB16, which became part of Utah law in January, places massive roadblocks for doctors who administer puberty blockers and perform gender reassignment surgeries on minors. Beginning in January 2024, healthcare professionals must undergo additional training through government-approved organizations and practice medicine according to new sets of criteria.
Doctors must treat a patient for gender dysphoria for at least six months and consider alternative treatments before resorting to reassignment, which requires parental permission. They must also discuss the risks and realistic expectations of hormonal therapy with both the patient and, if not emancipated, their legal guardians. Finally, a third party must evaluate patients for mental health issues before they can move forward with the controversial treatment.
Fox News recently reported that at least 11 states had enacted similar legislation. LGBTQ+ activists insist "gender-affirming care" is vital to transgender individuals' mental well-being, viewing such moves as oppressive and discriminatory. Still, the local advocacy group, Equality Utah, condemned the act of vandalism against the lawmaker, reminding activists violence doesn't further their agenda.
Conservatives see recent actions as a win. However, according to The New York Times, many believe the issue is far more complicated than the Left would like to paint it, noting teenagers can fall victim to "social influence" and passing phases. Several patients also appear to suffer from autism, attention-deficit disorder, anxiety, and depression, which can complicate diagnosis and treatment.
A photo of the property damage appeared on Kennedy's Facebook feed along with a message for anyone who might attempt to intimidate him similarly: "I will not be deterred by your cowardly actions […] and I won't back down."
Copyright 2023, RepublicanJournal.org