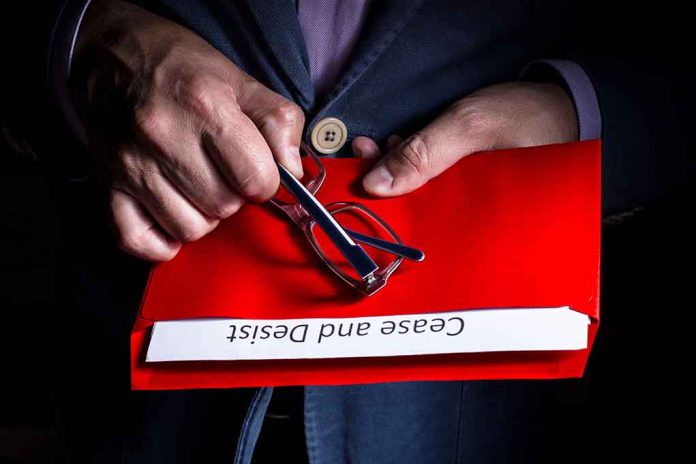 This NFL Team Threatened a GOP Political Candidate With a Cease-and-Desist Letter
(RepublicanJournal.org) – Tiffany Smiley is currently running for a US Senate seat in the state of Washington. A part of her campaigning efforts has involved the use of well-known brands associated with Seattle including merchandise from the Seattle Seahawks NFL team. Now, the team and other organizations have asked Smiley to stop using their branding.
Seahawks Send a Cease-and-Desist Letter
Last month, the candidate ran a TV ad featuring her husband, retired US Army Maj. Scotty Smiley, wearing Seahawks gear. The team's logo was only visible for a brief moment, according to reports. However, in the days after the ad initially aired on television, the football team contacted her campaign with a cease-and-desist letter, insisting Smiley refrain from using its logo. The campaign changed the imagery in the ad following the complaint.
You can see a still shot of the offending clip in the tweet below.
🧵 Hey @Seahawks: You sent a cease and desist letter to the @SmileyForWA (R) camp because her hero husband who was blinded serving our country wore the jersey YOU gave him for TWO seconds in a campaign ad. You said it could suggest an endorsement. pic.twitter.com/HWjSSsr4J4

— Brandi Kruse (@BrandiKruse) October 1, 2022
The Seattle Times and Starbucks have also taken issue with Tiffany Smiley's alleged misuse of their copyrights. In response, the candidate submitted a formal complaint to the Federal Elections Commission, alleging the Seattle Times had allowed incumbent Senator Patty Murray (D-WA) to use the paper's copyrights to promote her campaign. The conservative says the paper therefore unfairly discriminated against her on political grounds.
Scotty Smiley and the Seahawks
Scotty Smiley was the first individual in history to carry out active duty in the US Army while blind. He lost his vision following a car-bomb attack during a deployment in Iraq, and the military later honored him with a Purple Heart. Following Smiley's injury, the Seattle Seahawks celebrated his service, apparently promoting the soldier as a fan of the team.
VIDEO @USAA #SaluteToService: Maj Scott Smiley 1st blind active duty soldier #SeahawksSalute [http://t.co/JxsPtUzySH] pic.twitter.com/uxXlXsEK0M

— Seattle Seahawks (@Seahawks) November 12, 2014
Critics of the cease-and-desist move have pointed out that other political candidates have worn Seahawks apparel in their campaign materials without issues. Journalist Brandi Kruse highlighted the example of Vicky Cayetano, a Democrat who lost a gubernatorial primary election in Hawaii earlier this year. As you can see, the liberal contender wore a Seattle Seahawks jersey while addressing the camera in one of her ads.
Vicky Cayetano lost the Democratic primary for governor of Hawaii back in August. Maybe it's because she wore a @Seahawks jersey in her ads? #3 no less. Cease and desist Vicky! pic.twitter.com/FxlVO56hNi

— Brandi Kruse (@BrandiKruse) October 3, 2022
Representatives for the Seahawks did not immediately respond to a request for comment from Fox News Digital.
What do you think of this story? Are Seahawks officials and others simply protecting their brands from unauthorized use, or is there an element of political bias to their actions?
Copyright 2022, RepublicanJournal.org