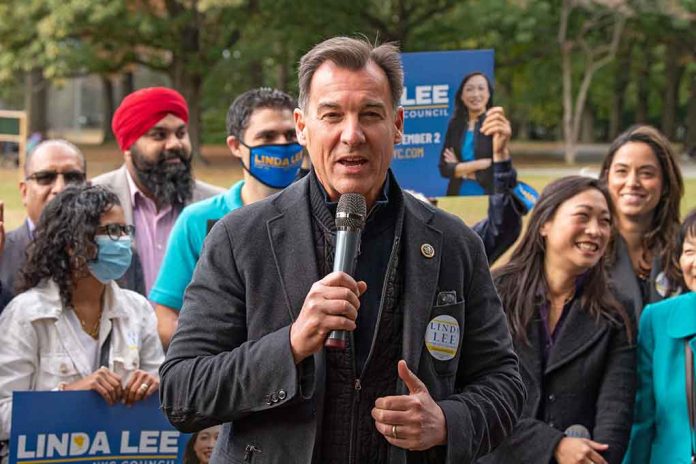 (RepublicanJournal.org) – Tom Suozzi (D-NY), who served as representative for New York's Third Congressional District beginning in 2017, published an op-ed in the New York Times on his last day in office. The retiring Democrat had much to say about his colorful successor, Republican George Santos — and none of it was good. In short, the replaced congressman is calling the newly elected politician "a con man."
Retiring Rep. Replaced by Lying Santos Writes Scathing Takedown: 'I'm Being Succeeded By a Con Man' https://t.co/KSUTKTpPeo

— Mediaite (@Mediaite) January 3, 2023
Suozzi insists Santos' conduct is "a manifestation" of the current political climate, where he says immediate repercussions don't exist. He referred to the growing stack of lies the incoming Republican allegedly spun to win his position, demanding accountability. Namely, he said lawmakers must remove the incoming lawmaker from the seat. Suozzi added that the move would be necessary because Santos had shown no signs "he will be moved by conscience to voluntarily resign."
Santos betrayed the public's trust, Suozzi alleges, going well beyond the typical cliche of the seedy politician. With so many lies under his belt, according to the frustrated Democrat, how can anyone trust the man to do his job with any measure of integrity?
Critics are calling much of Santos' history into question after reports surfaced contradicting many of his statements. The New York Times debunked claims he had graduated from Baruch College, worked for Citigroup and Goldman Sachs, and helmed a nonprofit group. New allegations surfaced that Santos committed fraud in 2008 while he lived in Brazil. He also accrued two evictions for failure to pay his rent, one of which led to a civil suit and over $12,000 in fines.
Suozzi says he believes truth will eventually prevail. "The system works," he writes, adding, "if not right away, then ultimately."
Is Suozzi righteously indignant over Santos' alleged lies, or is he just sore that the Republican was able to flip his seat?
Copyright 2023, RepublicanJournal.org