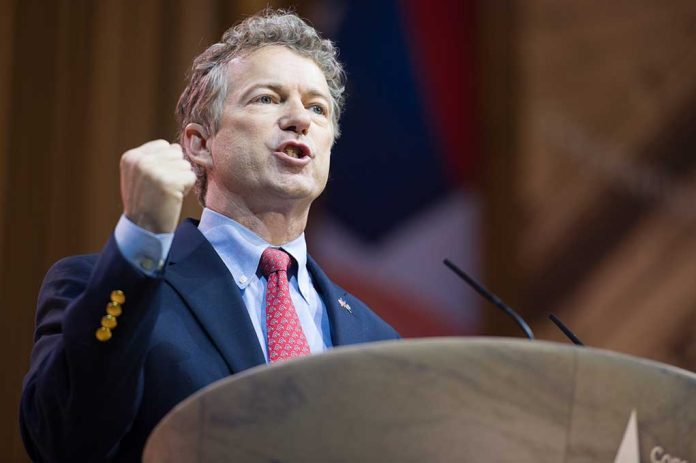 (RepublicanJournal.org) – The eyes of the world have been on Canada in recent weeks as fierce protests over vaccine mandates have caused significant disruptions. Canadian Prime Minister Justin Trudeau has positioned himself firmly against the protesters, with many calling his actions tyrannical. Canada's parliament voted to hand rarely used emergency powers to Trudeau in recent days to help him curb the demonstrations.
According to Senator Rand Paul (R-KY), this is a dangerous development that could also arise in the United States.
Senator Rand Paul has warned that the emergency powers being wielded by the Trudeau regime in an effort to crush protests in Canada also exist in the U.S. and can be implemented at any time by the government.https://t.co/jwyS8eh3BR

— Paul Joseph Watson (@PrisonPlanet) February 22, 2022
The "BASED Politics" podcast aired an episode with Senator Paul on Sunday, February 20. During the discussion, Paul highlighted that US statutes provide for the granting of the same kind of emergency powers in certain situations. The Kentucky senator claimed he was against these laws, adding that they were "very, very dangerous."
Among the actions a US president could take under emergency powers is a shutdown of the Internet, according to Senator Paul. He said he attempted to get Democratic lawmakers to team up with libertarian members of the GOP to change these laws while President Donald Trump was in the White House.
Paul noted that Justin Trudeau currently could limit travel and detain individuals without trial. Despite widespread skepticism, Trudeau insists his emergency powers will remain in place for the foreseeable future.
Do you think US presidents should be able to wield this kind of power?
Copyright 2022, RepublicanJournal.org