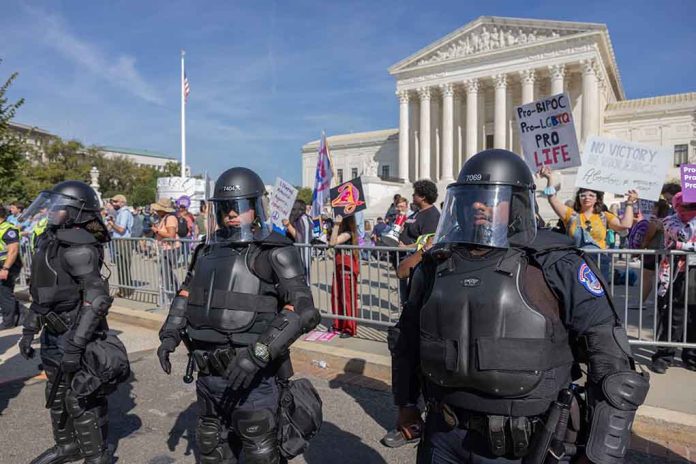 Supreme Court SHUTDOWN Attempt – Planned Conspiracy Confirmed
(RepublicanJournal.org) – According to their website, ShutDownDC is an organizational space for groups and individuals to join forces to defend democracy. On June 13, the organization planned to "blockade the streets" in Washington, DC around the Supreme Court building in anticipation of a final decision from SCOTUS on the fate of Roe v. Wade. They said now is the time for action because, without it, nothing will change.
According to The Post Millennial, the group followed through on their plan, which led to a verbal altercation between the pro-choice protestors and pro-life demonstrators that morning.
LIVE in DC: Pro and anti-abortion protestors get into shouting match as ShutdownDC marches through the streets

Footage from @HannahNighting pic.twitter.com/jqkHTi1RgP

— The Post Millennial (@TPostMillennial) June 13, 2022
The left-wing group believes the United States is in a state of political crisis, and the highest court in the land is preparing to "roll back critical rights" for Americans. Protest organizers asked that attendees wear masks and ensure they were COVID-free before the gathering.
The National File reported that police surrounded ShutDownDC shortly after their arrival at the SCOTUS building.
Following the leaked opinion on the Roe v. Wade issue from the court, the protesting organization gathered outside Justice Samuel Alito's private home in Northern Virginia. In May, ShutDownDC said the extreme action was the only way to reach the SCOTUS judge.
The group plans to continue protesting until the Supreme Court hands down its final opinion on the matter.
Copyright 2022, RepublicanJournal.org