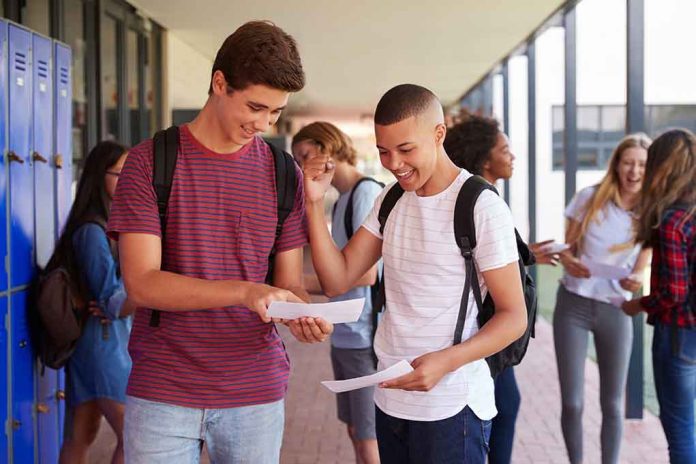 Race-Based Grading Unveiled At School
(RepublicanJournal.org) – When most people think of grades, the standard A, B, C, D, and F likely comes to mind, but merit-based grading is another system teachers use to assess their students. In the fall of 2023, a Chicago High School will put aside merit-based grading and implement race-based grading criteria in its place. The new system is designed to account for skin color and eliminate unintended bias from teachers at the school.
A New Grading System
Traditional grading systems that don't involve clear right or wrong answers involve some interpretation from the teacher. In fact, when students are late, talk during class, don't raise their hand, or fail to complete assignments, teachers might just give them a lower grade.
Some people believe the current way of giving what they refer to as "exit grades" leaves room for "inequities" and widens the gap between certain students and opportunities. To correct the presumed bias, Assistant Superintendent for Student Learning Laurie Fiorenza presented a new idea to the school board on May 26. Board members talked about a plan called the Transformative Education Professional Development & Grading, designed to level the playing field for all students, no matter their race.
That's partially because the Illinois State Board of Education reported the Oak Park and River Forest High School failure rate was disproportionate based on race. The study showed 77% of black students failed the Scholastic Aptitude Test and 49% of Hispanics, which was a stark difference from 25% of white people and 27% of Asians.
When teachers are considering overall grades, actions in class, participation, attendance, and the like will weigh into the decision differently depending on the student's race. For example, black students will have more leeway when turning in papers late, skipping class, or misbehaving. On the other hand, white and Asian students will have no such concessions. In other words, skipping assignments and failing to come to class will affect their grades the same way it does currently.
Teachers also need to consider the political philosophies within the district when determining the student's grade.
Implementation Into the Schools
The implementation is currently only within one Chicago school, but it is possible for it to spread if success is had. The plan points out that teachers and administrators should continue to tweak the grading system to improve the method's accuracy in practice.
Associate Director of the Education Advisory Board Margaret Sullivan stated the aim is to train teachers to "remove the non-academic factors" from the grading system to avoid personal bias that may affect the future of certain students. She expects to see a commitment from the school districts in the area by implementing the new practice.
What do you think of the new grading system? Does it promote equality or further divide the country?
Copyright 2022, RepublicanJournal.org