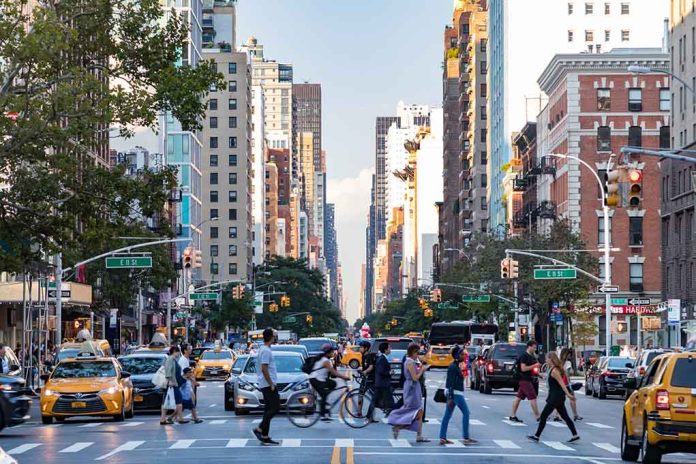 (RepublicanJournal.org) – Former President Donald Trump was formally arraigned on Tuesday, March 4, according to the AP News, for allegedly altering business records to cover up a personal bribe. The popular Republican caught wind of the development a couple of weeks ahead of the formal charges and called for his supporters to protest his arrest. With New York lawmakers prepared to take Trump into custody, police geared up for the potential demonstrations – and rightfully so.
New York police "ready to respond" to protests at Trump's arraignment https://t.co/ttxPw5oWGG pic.twitter.com/uOvEpGw0Jl

— The Hill (@thehill) April 3, 2023
The Hill reported the New York Police Department (NYPD) was "ready to respond as needed" should protests become problematic, which they did, for example, in Marjorie Taylor Greene's case. The Georgia native was escorted from the premises through a large crowd of people after proclaiming her support for Donald Trump, comparing him to Jesus, and even Nelson Mandela.
On March 2, the department issued a statement reminding people its officers work hard to keep order every year throughout all sorts of events — including demonstrations — and honoring citizens' First Amendment rights is always a priority. The NYPD was on high alert all day to ensure any protests that occurred remained peaceful.
Newsweek compared Trump's most recent call to action to his January 6, 2022 (J6) speech, when he asserted Democrats had stolen the election, prompting MAGA extremists to storm the Capitol Building. Political expert Thomas Gift told the publication the GOP leader has the First Amendment right to say nearly anything he wants, and as long as he uses the right language, he isn't breaking any laws — even if some of his followers take his claims a little too far. Experts feared any new demonstrations might also get out of hand, creating a repeat of J6.
The City, a local paper, shared concerns over New York's concealed carry laws in light of the newest calls to protest. It noted police were likely to establish "gun-free zones" around the Manhattan courthouse in accordance with the Concealed Carry Improvement Act, which bars firearms in "sensitive locations." The legislation specifically prohibits guns in public parks and anywhere large groups of people plan to assemble.
Copyright 2023, RepublicanJournal.org