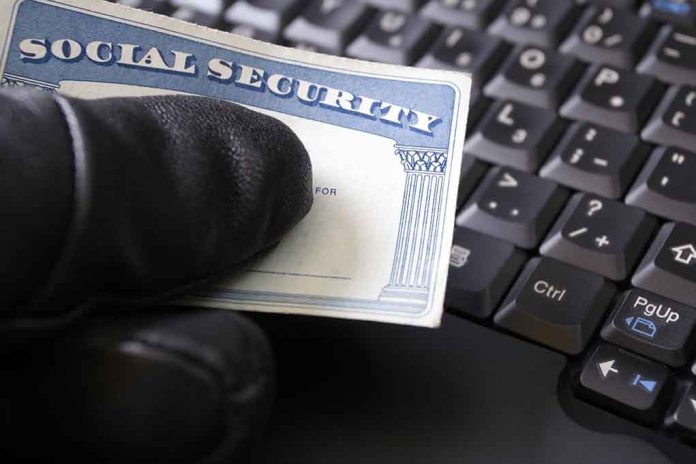 Don't Let Scammers Ruin Your Life — How To Safeguard Your SS Number NOW
(RepublicanJournal.org) – You might not realize it, but your Social Security number is a valuable piece of data. Unfortunately, if your number falls into the wrong hands and a criminal uses it to steal your identity, the consequences for you can be disastrous.
Luckily, you can take steps to ensure this fate doesn't happen.
How Criminals Use Social Security Numbers to Steal Identities
If someone has your Social Security number, they can use it to find out other items of your personal information. They can also apply for credit in your name before running up large debts and not paying for them. You may not even realize this is happening until a lender contacts you to inquire about repayment. At that stage, the criminal may have done irreparable damage to your credit score.
How to Keep Your Social Security Number Safe
To keep your Social Security number secure, you need to know the most common ways in which criminals acquire the numbers. For example, they'll often get info from stealing wallets or purses, or they might intercept an item of your mail. Some identity thieves even get their hands on Social Security numbers by rummaging through trash.
As the world has increasingly moved online, criminals have developed ways of compromising Social Security numbers using cybercrime techniques. Additionally, some scammers target numbers by calling homes, pretending to be a landlord or employer, and requesting sensitive personal data.
With scammers in mind, you need to be careful about where and how you share your Social Security number and where you keep documents with the number on them. Leave any sensitive paperwork at home rather than keeping it on your person. If you're throwing away an item with your Social Security number on it, consider shredding it or tearing it up before putting it in the trash. Also, remember that most reputable companies won't contact you over the phone or via email for this information, so be suspicious of any incoming correspondence that requests your Social Security number.
What to Do If Your Number Is Compromised
If someone is using your personal information, you need to go to IdentityTheft.gov to report the crime and learn how to recover your identity. You should also contact the Internal Revenue Service at 1-877-438-4338 in case a criminal has used your number to steal your credit or earn income without paying tax on it.
If these steps don't fix the problem, you may be able to get a new Social Security number. However, this option isn't a cure-all either, as institutions will still associate your name with your old info, and it may be difficult for you to borrow money even with a new Social Security number.
Copyright 2022, RepublicanJournal.org