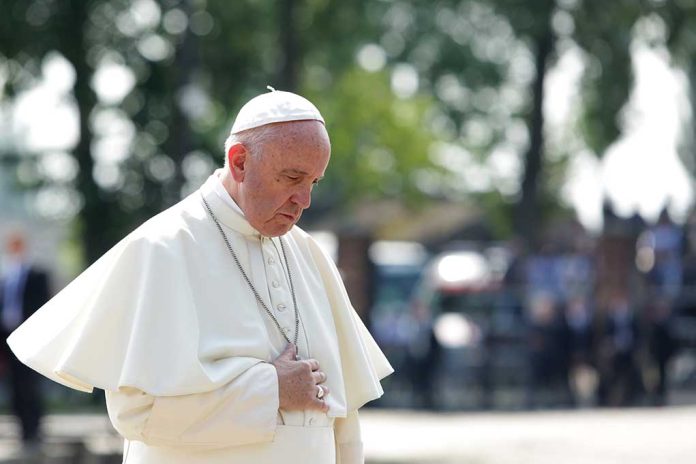 Pope Francis APOLOGY Issued – He's So Sorry!
(RepublicanJournal.org) – The Vatican has been implicated in a large number of institutional scandals around the world in recent decades. Many people, particularly younger members of society, suffered unspeakable trauma in Catholic-run schools and facilities. In many instances, church leaders covered up these cases rather than punishing those responsible, sometimes facilitating further abuse by moving perpetrators around to other positions rather than stripping them of their roles. Pope Francis recently apologized to Canada's Indigenous community for the religious institution's treatment of children who died in its care.
The remarks, which the Vatican leader delivered during an official visit to Canada, criticized the conduct of his church and asked the aggrieved residents for forgiveness. His apology was in response to the discovery of several mass graves under Catholic-run schools for native people.
Pope Francis apologizes to Canada's Indigenous communities for the church's harmful legacy https://t.co/xz2KDbEjjH pic.twitter.com/vAIusclMeo

— TIME (@TIME) July 25, 2022
According to reports, Canadian leaders forced children to attend these schools in an attempt to distance them from their heritage. As well as death and physical trauma, some youths in these schools reportedly suffered abuse.
Following this speech, the pontiff took to Twitter to reiterate his apology to the native individuals of Canada.
I ask forgiveness for the ways in which many members of the Church cooperated in those projects of cultural destruction and assimilation stipulated by the government, which culminated in the system of residential schools. #IndigenousPeoples #Canada

— Pope Francis (@Pontifex) July 25, 2022
What do you think of Pope Francis' bid to make amends with communities his organization damaged? Do you think it would be a good idea for him to extend such apologies to other affected groups?
Copyright 2022, RepublicanJournal.org