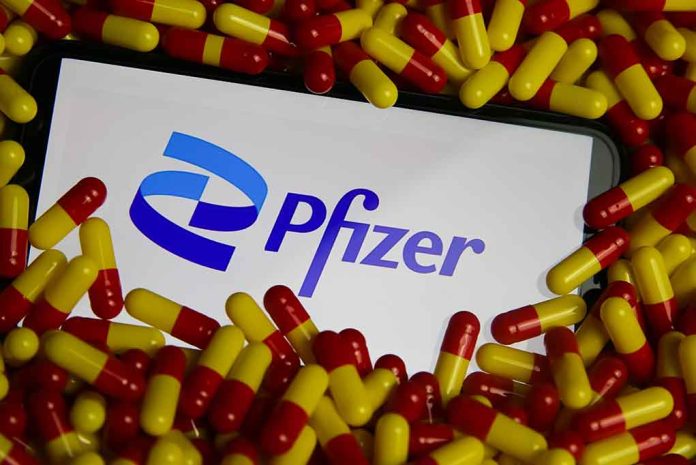 Pfizer Unveils COMPUTER CHIP Project – This Is Too Far!
(RepublicanJournal.org) – In 2018, Pfizer CEO Albert Bourla spoke to a group of people in Switzerland about the possibility of tracking technology monitoring people from the inside. Considering the company's key role in the development and push of the coronavirus vaccine during the pandemic, his words have caused alarm all over social media.
At the time, the CEO mentioned the monitoring could take place by people ingesting a pill containing a biological chip that would tell a provider or an insurance company the patient was actually taking their prescribed medication.
Pfizer CEO Albert Bourla explains Pfizer's new tech to Davos crowd: "ingestible pills" – a pill with a tiny chip that send a wireless signal to relevant authorities when the pharmaceutical has been digested. "Imagine the compliance," he says pic.twitter.com/uYapKJGDJx

— Jeremy Loffredo (@loffredojeremy) May 20, 2022
In January, USA Today fact-checked the video and made it clear he was discussing treatment for schizophrenia and had nothing to do with COVID-19 treatment. However, there were many viewers who believed there was a tracking chip in the coronavirus vaccine, causing some to balk at the idea of receiving the shot. Although the discussion was pre-COVID, the video shows that technology may exist to monitor humans.
The conspiracy theory about COVID-19 vaccines containing tracking devices might have seemed outrageous, but listening to Bourla may give some people reason to pause. The vaccine manufacturers ensure there are no tracking devices in the coronavirus shots. Still, do you think those who feared it might have some backing based on Bourla's comments?
Copyright 2022, RepublicanJournal.org