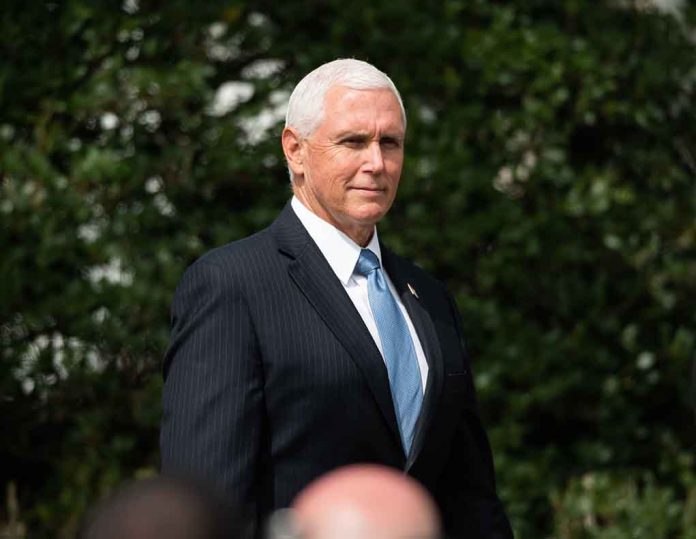 (RepublicanJournal.org) – Former Vice President Mike Pence hasn't yet given any word as to whether he intends to run in the 2024 presidential primaries, but recent actions suggest he's considering taking the leap. The Indiana Republican recently joined The Dispatch Podcast to discuss the political climate and slammed some of his former running mate's policies, saying they're "identical" to President Joe Biden's.
In his interview with @thedispatch, Mike Pence calls out Trump on entitlement reform.

"In fairness, my old running mate's policy is identical to Joe Biden's––we're never even going to talk about Social Security and Medicare. I think we owe my 3 granddaughters better than that." pic.twitter.com/ZUHS4e8bJ0

— The Dispatch (@thedispatch) April 26, 2023
Pence spent the first part of the interview sharing his pro-life stance and expressing his admiration for former President Ronald Reagan, but ultimately he used the discussion to cement his traditional Republican values. He kept most of the interview positive, even praising former President Donald Trump for the MAGA leader's progress in international relations with countries like China.
The kindness ended when the subject shifted to spending and entitlement programs. Pence said politicians needed "to be straight with the American people," noting that "Joe Biden's program is insolvency." He added that "in fairness," Trump's approach was exactly the same as Biden's — a refusal to discuss Social Security and Medicare at all. He insisted the current trajectory, left to continue as it currently stands, would put the country in dire financial straits within the next few decades. He felt the only solution is to "introduce common-sense and compassionate reforms for Americans under 40."
Pence's stance veers from those of both Democrats and the majority of Republicans, who want to preserve entitlement programs for those who've paid into them. The former vice president believes privatizing Social Security and Medicare options is the only way to make the system truly solvent. Despite standing alone on the matter, he's willing to defend his position, stating that "the American people have a demonstrated history" of stepping up and facing hard decisions when they understand what's at stake. He added, "but it takes leadership."
Copyright 2023, RepublicanJournal.org