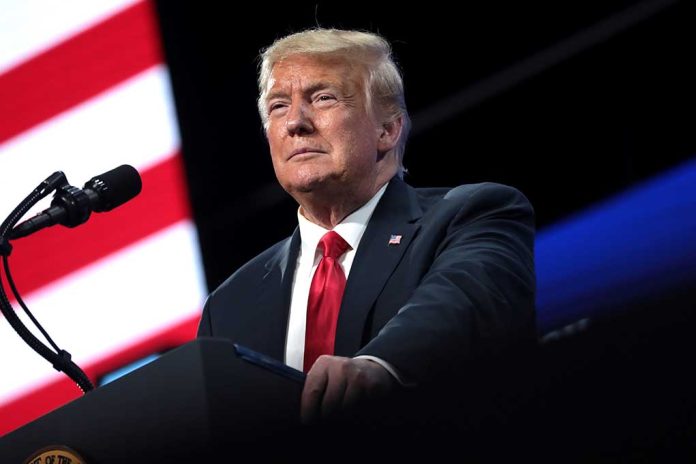 LOOK – These Are The Only RINOs Left!
(RepublicanJournal.org) – Former President Donald Trump's support has proven valuable for GOP candidates during this year's election cycle thus far. Conversely, opposition to the 45th commander in chief has left certain aspirants out in the cold. When it comes to political enemies, the Republicans who voted to impeach Trump are at the top of his list, and it looks like they're now paying the price for this position. Just two of the GOP lawmakers in the House who voted against him in last year's impeachment proceeding are still in with a chance of being back in Congress next year.
Where Have the Anti-Trumpers Gone?
Ten Republican lawmakers in the chamber cast their ballots against the 45th president. Now, just two remain in the running to reclaim their seats.
The highest-profile casualty of this trend has been Rep. Liz Cheney (R-WY). She lost her primary race to Harriet Hageman, whom Trump endorsed, on Tuesday, August 16. The political fallout for Rep. Cheney began long before, however. She lost her position as the third-highest ranked Republican in the House, as well as her membership of the Wyoming GOP, after voting against Trump.
As the Wyoming Congresswoman's fate started to become clear, she spoke to her supporters about what was ahead for her. She explicitly stated she intended to work on initiatives to keep the former president out of the running going forward.
Liz Cheney is among just two Republicans on the House Select Committee investigating the events of January 6, 2021. The other is Rep. Adam Kinzinger (R-IL), who announced he would not run for reelection last October. His fellow Republican lawmakers widely welcomed the move, implying Kinzinger's highly public opposition to the former president had made his position in Washington, DC untenable.
Three of the other Republicans who voted to impeach — Reps. Anthony Gonzalez (OH), John Katko (NY), and Fred Upton (MI) — all announced they would not seek reelection. Reps. Tom Rice (R-SC), Jaime Herrera Beutler (R-WA), and Peter Meijer (R-MI) did decide to run despite having voted against Trump, but all crashed out at the primary stage.
The Last Men Standing
The two anti-Trump Republicans who may still retake their seats in the House next year are Reps. David Valadao (CA) and Dan Newhouse (WA). Both managed to win their primaries against rivals the 45th president had backed. Newhouse faces a general election fight against Democrat Doug White, while Valadao is up against Rudy Salas.
Do you think this showing of pro-Trump sentiment within the Republican voter base is a sign that the former commander in chief's future presidential ambitions might come to fruition?
Copyright 2022, RepublicanJournal.org