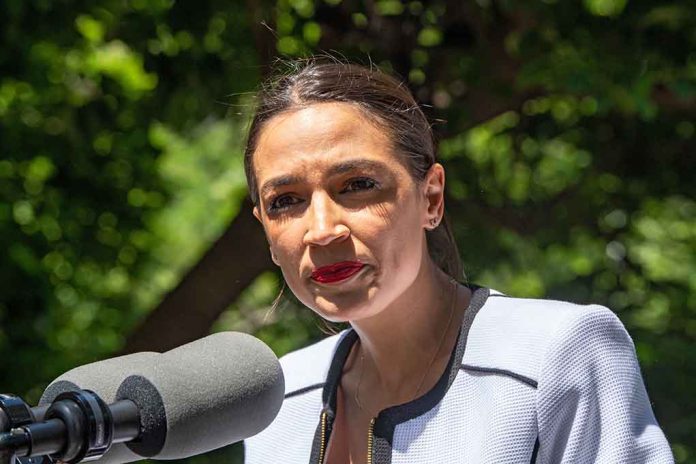 (RepublicanJournal.org) – There's been a bitter divide in Congress over the past few years, with members of the far-left and right wings eagerly attacking the other. While they've come together in the past to pass bipartisan legislation, tensions run higher more often than not. One of the far-left squad members, Alexandria Ocasio-Cortez (D-NY), known as AOC, recently raised a few eyebrows when she seemed to be in discussions with two GOP members with whom she typically feuds.
On Tuesday, January 3, when the House was trying to elect its speaker, AOC appeared to be in harmonious talks with GOP Reps. Paul Gosar (AZ) and Matt Gaetz (FL). In the past, she's butted heads with both of them, particularly Gosar, who promoted an animated video depicting him killing her. House leadership subsequently censured him and removed him from all of his committee assignments as a result.
Journalist Alex Wagner later asked Ocasio-Cortez whether Democrats and Republicans might work together to elect Hakeem Jeffries (D-NY) as House Speaker in an MSNBC interview. She laughed and responded, "in chaos, anything is possible." She also said the Dems are open to playing ball with Republicans, and if McCarthy were to "approach the Democratic caucus," it could lead to a "coalition government."
Ocasio-Cortez on conversations with Gosar, Gaetz: "In chaos, anything is possible" https://t.co/2peKzFFbcK pic.twitter.com/QHi0U3EgcR

— The Hill (@thehill) January 4, 2023
As far as the House elections go, Kevin McCarthy (R-CA) lost several elections over three days in a bid to land the speaker role. He also seemed to anger quite a few folks when he presumptively moved his belongings to the Speaker's office after Nancy Pelosi (D-CA) vacated.
In the elections, all 212 House Democrats have stood behind Jeffries without wavering. McCarthy has been unable to gain the 218 votes he needs to secure the role, despite having said he would make concessions.
Copyright 2023, RepublicanJournal.org