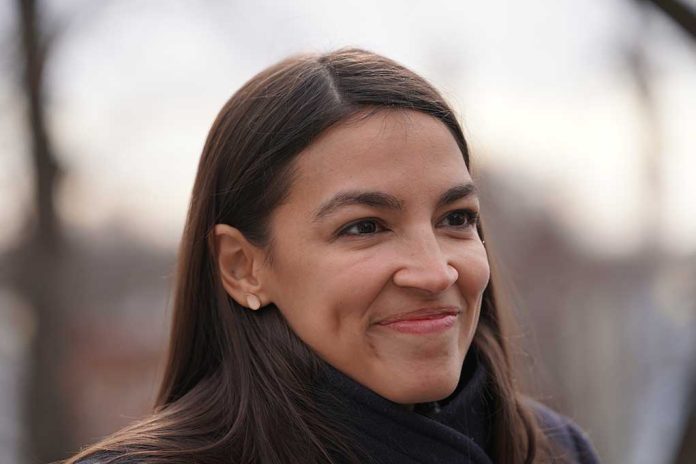 (RepublicanJournal.org) – In September 2021, celebrities walked the red carpet at the Metropolitan Museum of Art's Met Gala in New York City. Among them was US House Representative Alexandria Ocasio-Cortez (D-NY), who made headlines when she wore a white dress with the words "Tax the Rich" emblazoned in red on the back of it. However, her outfit soon launched an investigation into her acceptance of the gown and various accessories as it may have broken federal law.
Office of Congressional Ethics Releases Report
The House of Representatives Office of Congressional Ethics (OCE) recently released a report showing that five of its members voted to recommend that the lower chamber's Committee on Ethics review AOC actions in 2021. The report stated that "there is substantial reason to believe" that the New York Congresswoman "accepted impermissible gifts" while preparing for and attending the 2021 Met Gala.
Leading up to the event, designer Aurora James gave AOC a floor-length couture dress, as well as shoes, jewelry, and a purse to wear in front of the cameras. The representative also received various services, including hair and makeup assistance, on top of transportation to the event. In attendance with her was her partner, Riley Roberts, who got a bow tie and shoes for free as well.
AOC Denies Violations and Ends Up Paying for the Dress
Ocasio-Cortez believes she did not violate federal law barring lawmakers from accepting gifts and thinks the matter will be dismissed. A statement from AOC's office shared by NBC News noted the delayed payments to vendors were "unacceptable" and called the issue in question "regrettable."
The OCE report did note that she eventually pay for the dress, accessories, and other services rendered, although it was not until after investigators contacted her to start looking into the accusations.
Committee of Ethics Will Gather Additional Information
On Thursday, March 2, the chairman and ranking member of the Committee on Ethics released a statement about its investigation into AOC's Met Gala gifts, emphasizing that just because they are reviewing the accusations further, there is not yet a firm decision as to whether or not "any violation has occurred."
As the Ethics Committee continues to dive into AOC's potential breaking of federal law, many Americans are reminded of other Democrats who have made similar missteps, such as former Democratic Representative Barney Frank (D-MA), who confirmed he had an ongoing relationship with a male prostitute while the hooker used the lawmaker's apartment for his business. Many people also believe former House Speaker Nancy Pelosi (D-CA) abused her position of power and intel to help her husband make stock trades that boosted their personal wealth.
For now, many citizens will be anxiously awaiting a final decision about whether or not AOC broke the law in 2021.
Copyright 2023, RepublicanJournal.org