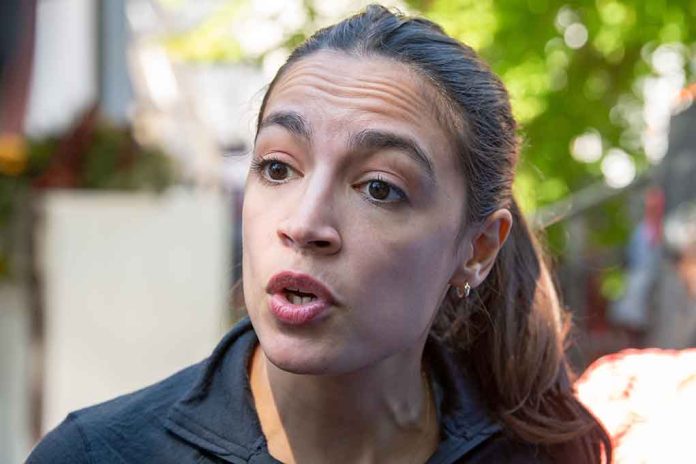 (RepublicanJournal.org) – Representative Alexandria Ocasio-Cortez (D-NY) has garnered a huge following of young progressives and fellow liberal lawmakers in Congress. She uses her social media presence to push her agenda, which often includes supporting LGBTQ+ issues and creating bigger government programs. During a recent committee hearing discussing Twitter's suppression of the Hunter Biden laptop story in 2020, AOC said that a famous conservative TikTok user was spreading false information and lying. Now, that person has filed an ethics complaint against the lawmaker with the help of The Heritage Foundation.
AOC Accuses Conservative of Spread Disinformation
AOC, while speaking with Twitter's former Head of Trust and Safety Yoel Roth during a February 8 House Oversight and Accountability hearing, asked the Big Tech employee if she knew the Libs of TikTok account shared details on Boston Children's Hospital performing hysterectomies on transgender kids, which the New York Representative claimed was "false information." Roth replied that she knew of the post.
However, the Libs of TikTok post in question, which claims Boston Children's Hospital did, in fact, perform gender transition surgeries on kids under the age of 18, was backed up by claims from the medical center's website. Quotes from Dr. Frances Grimstad, an employee there, also confirmed the practice.
Libs of TikTok Founder Files Complaint Against AOC
On March 30, Libs of TikTok creator Chaya Raichik went to AOC's office with a representative from The Heritage Foundation to hand the congresswoman an official ethics complaint. The media personality accused her of lying about an American citizen during a committee hearing. According to the Washington Examiner, the complaint states that AOC "knowingly and intentionally" defamed Raichik. Libs of TikTok shared the lawmaker's reaction on Twitter:
BREAKING: I served @AOC with an ethics complaint after she lied about me in a committee hearing. AOC wasn't in her office but then I bumped into her as I was leaving the Capitol!

Watch what happens: pic.twitter.com/Lhrrzo1w8Q

— Libs of TikTok (@libsoftiktok) March 30, 2023
At first, AOC seemed happy to pose for a picture with Raichik. But after she learned who the individual was, the lawmaker quickly said, "you're actually super transphobic and I never want to share a space with you," before storming away.
The Office of Congressional Ethics (OCE) is already investigating AOC's March 2021 attendance at the Met Gala, where the representative accepted many gifts, which included a dress with the phrase "Tax the Rich" emblazoned on the back and accessories to go with it. While she eventually paid for it and other services that night, she may have broken congressional rules. Moving forward, any future legal action for either of these complaints is in the hands of the OCE.
Copyright 2023, RepublicanJournal.org