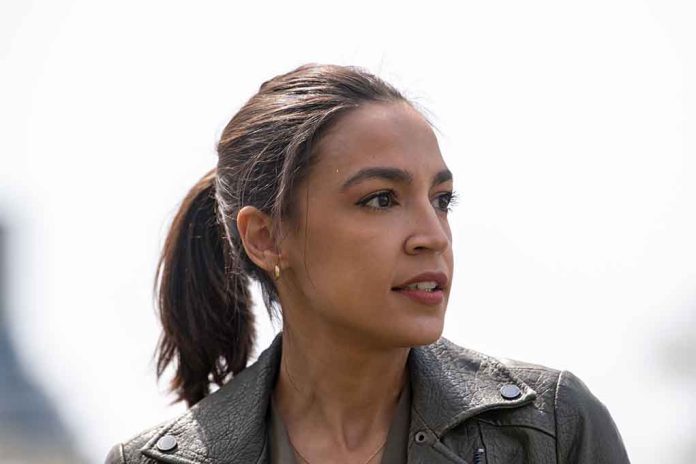 (RepublicanJournal.org) – Radical congresswoman Alexandria Ocasio-Cortez (D-NY) has always been a big fan of Twitter. Since constituents elected her, she's used the social media platform to attack conservatives and whip up her supporters. But she might walk away soon because she's losing her online feud with new owner Elon Musk.
On May 30, AOC sent a tweet complaining that Twitter CEO Musk had "engaged" with a parody account that mocks her, "boosting visibility." The far-left lawmaker complained the account is "impersonating" her, even though the user has clearly marked it as a parody in compliance with Twitter's rules.
Her specific complaint is that on May 28, the parody account — called "Alexandria Ocasio-Cortez Press Release (parody)" — tweeted, "This might be the wine talking, but I've got a crush on @elonmusk." Musk replied with a fire emoji, which is hardly controversial. The problem is that Musk has 141.8 million followers on Twitter, and the parody account's tweet quickly racked up 26 million views. Since Musk's reply, the parody account has jumped from around 70,000 followers to 399,800.
To put it mildly, AOC is not amused. In her tweet, she said, "I am assessing with my team how to move forward," a veiled threat to leave Twitter if the platform allows others to parody her. This incident isn't the first time she's crossed online swords with Musk. Last November, the entrepreneur abolished Twitter's controversial blue-checkmark verification system, replacing it with an $8 subscription fee allowing users to write longer tweets. AOC apparently didn't like losing her special status and complained about the new system. Musk replied, "Your feedback is appreciated, now pay $8." So far, she hasn't — but the parody account has.
Adding insult to injury, after AOC complained about the parody account, it tweeted, "I'm having my staff report every single tweet that makes fun of me to the DOJ." So far, she hasn't responded to that; maybe self-preservation is kicking in at last.
Copyright 2023, RepublicanJournal.org