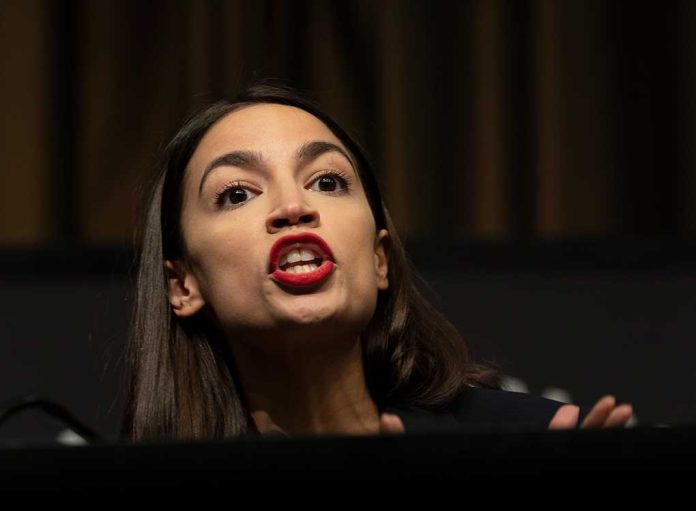 Ocasio-Cortez ATTACKS Cops in Unhinged Rant
(RepublicanJournal.org) – On July 13, comedian Alex Stein heckled Representative Alexandria Ocasio-Cortez (D-NY) on the steps of the Capitol as she headed to work. That night, she went on social media to talk about the incident and complain about the police, who were present at the time but didn't tell the man to stop.
She claimed to have approached Stein to "deck him" but decided against the extreme measure.
Here is a video he posted of the incident. I was actually walking over to deck him because if no one will protect us then I'll do it myself but I needed to catch a vote more than a case today pic.twitter.com/RdwCNBDIBb

— Alexandria Ocasio-Cortez (@AOC) July 14, 2022
The man was commenting on what Ocasio-Cortez was wearing, commenting about her stance on abortion, and generally catcalling her as she ascended the stairs. She turned and walked toward the camera but stopped short, held up a peace sign, and continued on her journey.
Speaking on Instagram, the legislator said she hasn't felt safe at the Capitol since the riot on January 6, 2021. She said some local police let people into the building instead of stopping them, and she doesn't know if they still have their jobs.
Her rant about the incident with Stein was lengthy, and she accused the comedian of "threatening" behavior. Rob O'Donnell, who formerly served with the NYPD as a detective, wondered why she was comfortable enough to walk over to him if she felt that way.
Do you think the police should have intervened in this instance, or do you feel the lawmaker overreacted?
Copyright 2022, RepublicanJournal.org