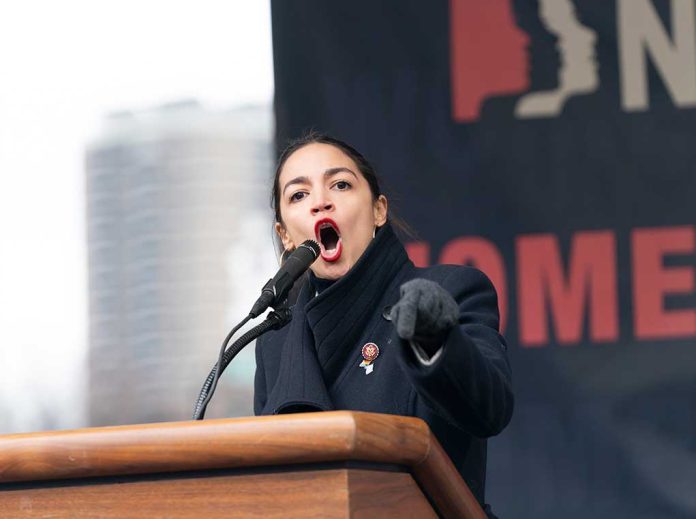 Ocasio-Cortez Suddenly Doesn't Support Housing Plan for Migrants
(RepublicanJournal.org) – Much of America knows Representative Alexandria Ocasio-Cortez (D-NY) to be one of the most "woke" lawmakers in Congress. The Democrat has a long history of supporting immigrants coming to America and has taken steps to support undocumented individuals in the US. However, she suddenly doesn't support New York City's plan to build a tent city.
About-Face
NYC Mayor Eric Adams had plans to build a tent city in a parking lot in the Bronx. The idea was to handle the influx of undocumented individuals Texas Governor Greg Abbott (R) has been sending to the area by the busload. AOC, who would typically be all for such an idea, didn't seem to care for the prospect of a tent city being in her district.
The congresswoman asserted she believed lawmakers could come up with a better solution than the one Adams suggested. The tent city would house an estimated 1,000 immigrants. AOC mentioned being in talks with other policymakers to determine if there were additional federal resources they could use to provide housing to the undocumented individuals seeking asylum.
Defending the Tent City
After AOC criticized the mayor for wanting to build the tent city, the reporter then went to Fabien Levy, the spokesperson for Adams, to get a response. Levy claimed there was no perfect location to set up the makeshift community, declaring the administration felt confident in its decision. The spokesperson also expressed gratitude for local lawmakers working with the mayor to have a successful rollout and recognizing they're being faced with an emergency.
Criticism for Cortez
AOC's sudden change of heart regarding immigrants quickly drew the attention and criticism of Tomi Lahren, a host for Fox News. He condemned the liberal lawmaker and other members of her party on "Fox & Friends First," calling out their willingness to support sanctuary cities but not have a plan to deal with an influx of asylum seekers.
Lahren stated that Democrats enjoyed the idea of helping border crossers up until they were confronted with the issues that arose from allowing them to flood into the US. Now, they have to explain to their constituents why these individuals are flooding their areas. The host noted many liberals claim they're alleviating a humanitarian crisis by providing sanctuary cities.
Lahren agreed with the notion there was a humanitarian crisis and mentioned that maybe Democrats would start looking at the Biden administration and demand a solution. The conservative host noted that everything might seem good on paper or on social media, but their feelings might change when they have to deal with it for real. AOC is learning the reality of this lesson firsthand.
Copyright 2022, RepublicanJournal.org