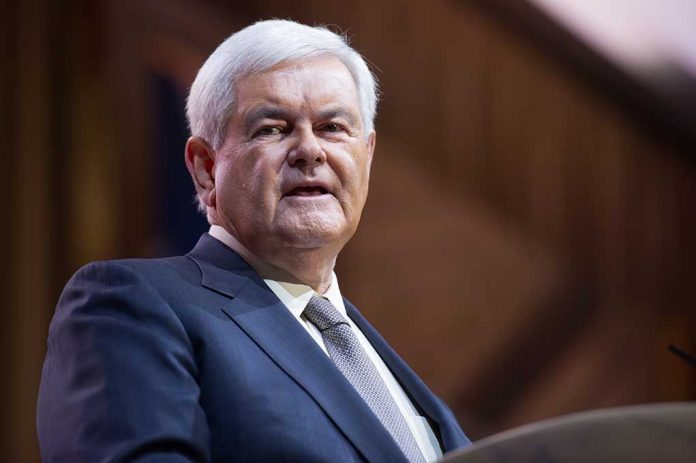 (RepublicanJournal.org) – Former Speaker of the House Newt Gingrich recently sat down with Fox News correspondent Maria Bartiromo during an airing of "Sunday Morning Futures." The two briefly discussed President Joe Biden's re-election chances before the recurring guest shared his theories on a recent shift in Biden's advising staff. According to Gingrich, there are signs that former First Lady Michelle Obama is eyeing a presidential bid.
"This is very significant." https://t.co/sEcBpCVD3j

— The Western Journal (@WestJournalism) May 1, 2023
Bartiromo shared the results from the latest polls on Biden's job performance, with nearly two-thirds of Americans disapproving of the president across the board. She also noted his announcement to run again came the day after White House domestic policy advisor Susan Rice officially left the administration. Asked his thoughts on the matter, Gingrich agreed the timing probably wasn't a coincidence.
Gingrich described Biden as "steadily getting more forgetful" before stating the Democratic leader had "a pretty weak base on which to run for president." He felt that "at a minimum," Rice left because Biden might have opted to run again against her advice — but he feels more significant moves could be at play, and the advisor might even be looking to support a new administration.
According to Gingrich, the signs point to Michelle Obama joining the race. He noted the former First Lady recently appeared with musician Bruce Springsteen, during which she reportedly played tambourine on stage along with one of his songs. Gingrich also brought up a Los Angeles book tour talk that Obama co-presented with Oprah Winfrey to 9,000 attendees. "I think Republicans had better pay significant attention to Michelle Obama," he warned.
Bartiromo also asked long-standing Texas Sen. Ted Cruz (R) his thoughts on Rice's departure, but the lawmaker had a far simpler response: "I think rats are fleeing the ship." He added that Biden's only saving grace was "the corrupt corporate media," which Cruz believes will try to spin the president's mistakes in a way that puts the Right at fault and clears the path for whoever winds up running for the Left.
Copyright 2023, RepublicanJournal.org