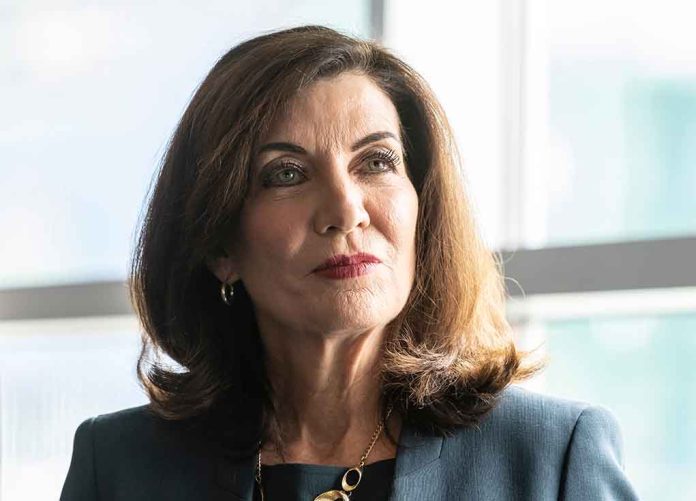 State ORDERS Spying On U.S. Citizens – Is This Even Legal?!
(RepublicanJournal.org) – Following the May 14 deadly mass shooting in Buffalo, New York, Governor Kathy Hochul has been outspoken about preventing a repeat occurrence in her state. Four days after the massacre, she signed an executive order to help combat domestic terrorism, and on June 6, Hochul announced her intention to demand social media monitoring for "hateful conduct." The governor feels the country is normalizing "hate speech," and that it needs to stop.
NOW – Gov. Hochul: "In the state of New York, we're now requiring social media networks to monitor and report 'hateful conduct' on their platforms."pic.twitter.com/5LctpfRuqo

— Disclose.tv (@disclosetv) June 6, 2022
Hochul signed a comprehensive and bold bill to address what she refers to as a "gun violence… epidemic." The 10-bill package includes restrictions on buying semi-automatic rifles and body armor in New York, and it adds requirements for social media platforms to improve monitoring and reporting efforts regarding hateful content. By looking over the shoulders of social media users, the governor hopes to reduce the chances of domestic terrorist connection and mobilization.
In her legislative package, she ordered social media platforms to give users an easy way to report harmful conduct.
The New York leader stated the live stream for the Buffalo shooting on Twitch should have been shut down faster, and she called for an investigation into the delay. Hochul intends to stop criminals from planning and broadcasting similar crimes by eliminating the opportunities social media provides to people with ill intent.
Do you think the governor is on the right track in addressing the mass shooting problem in America, or do you believe her plan infringes on the people's right to free speech?
Copyright 2022, RepublicanJournal.org