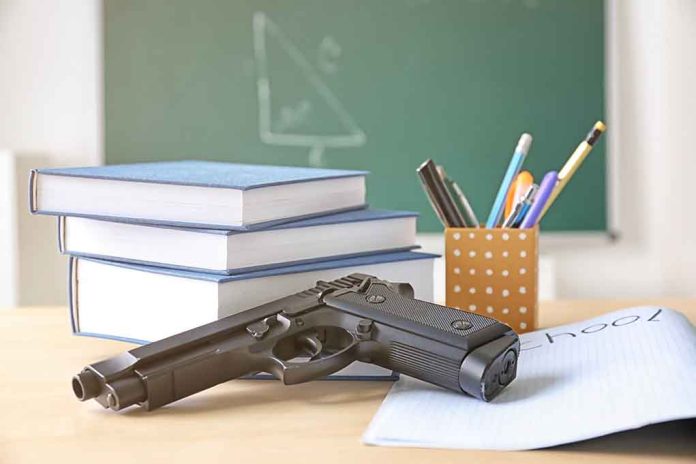 New POLL – Democrat Narrative Shattered On Latest Agenda!
(RepublicanJournal.org) – America is thinking about the best solution to keep kids safe in schools, following the deadly shooting in Uvalde, Texas, which left 19 children and 2 teachers dead. One proposed solution involves training and arming teachers to protect their students, a measure supported by a majority of voters. According to a recent poll conducted by The Trafalgar Group and supplied exclusively to The Daily Wire, most Americans believe arming teachers would make schools a safer place to be.
A new poll conducted by The Trafalgar Group shows that a majority of 2022 likely voters support having properly trained, armed teachers in schools. Schools should also consider hiring vets & retired cops. This along with hardened buildings will save lives. https://t.co/XqvOvs8c6W

— David Burke 🇺🇸 (@ConservativeTht) June 1, 2022
The researchers surveyed over a thousand people, and 57.5% of them said not allowing trained teachers to carry firearms made schools more dangerous. Republicans supported the idea the most, with 67.5% believing schools should allow teachers to carry guns in school. Only 19.4% of conservatives thought it was a bad idea.
In contrast, 41.3% of Democrats surveyed didn't like the idea of arming teachers, while 48.2% didn't think firearms in the classroom was a bad idea after all.
Convention of States Action (COSA) President Mark Meckler, who teamed up with the survey group to conduct the poll, said gun control legislation would do nothing to prevent school shootings. He believes "arming law-abiding citizens" are needed to keep the children safe.
What do you think about arming teachers in schools?
Copyright 2022, RepublicanJournal.org