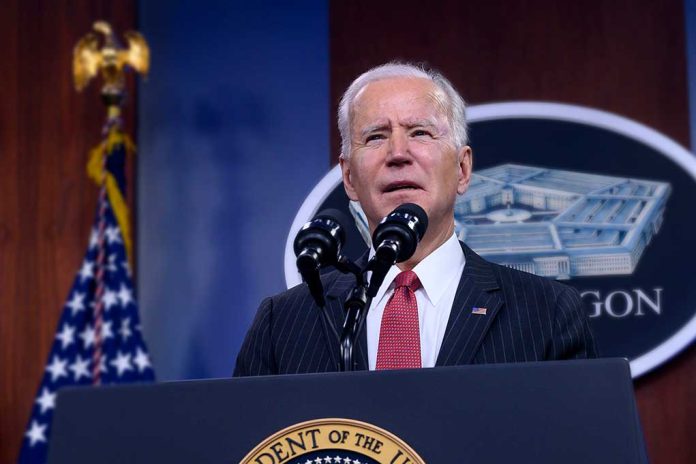 New POLL Spells Doom For Democrats Everywhere
(RepublicanJournal.org) – It's no secret that the United States is facing its fair share of problems right now. The COVID-19 pandemic might be fading out of our collective consciousness, but a series of major economic problems have stepped in to worsen citizens' overall quality of life. In addition, the country is still contending with an immigration crisis, epidemics of violent crime, and major social division.
Unsurprisingly, many Americans are laying the blame for this state of affairs squarely at the feet of the Biden administration.
New Poll Shows a Majority Blaming the Government for National Issues
A new poll from Monmouth University shows 57% of American adults believe the federal government's actions since the beginning of the year have devastated overall conditions. The survey quizzed 978 respondents about their general struggles and how the government is helping (or hindering) them. Just 8% of participants said the actions of the federal government were helping them, while 34% stated they weren't seeing a significant impact one way or the other.
Inflation (33%) and gas prices (15%) were the two most significant points of concern. In relation to the general cost of living, a record 42% of Americans said they were having a hard time sustaining their current quality of life because of price levels. That figure has never surpassed 29% in previous iterations of the poll.
Though gas prices have recently dipped somewhat, they're still well in excess of what they were just a few months ago. Additionally, we're about to enter the peak of the summer season, which is when demand for gas is highest. Experts are warning that the worst could therefore be yet to come.
Responses to the Data
Rep. Thomas Massie (R-KY) was among the lawmakers to highlight the survey's findings on social media. His tweet speculates that the massive economic stimulus the federal government handed out during the pandemic is now inflating prices and coming back to bite Americans.
People are beginning to understand that those $1200 stimmy checks were the cheese in the trap.

Monmouth Poll: More Americans Struggling; Inflation, Gas Prices Top Family Concerns. Majority say federal government actions are hurting them.https://t.co/wjhttEFSNM pic.twitter.com/am45aAUnkg

— Thomas Massie (@RepThomasMassie) July 5, 2022
Economist John Williams has shared some worrying insights about the skyrocketing costs. Using a calculation methodology the government employed in the 1970s and before, Williams put the actual current rate of the CPI at 16.8%, almost double the official figure right now. If his calculations are accurate, inflation is currently at its highest peak in three-quarters of a century.
The question is, if the Biden administration cannot rein in these runaway price increases, what will be the outcome for the American people?
Copyright 2022, RepublicanJournal.org