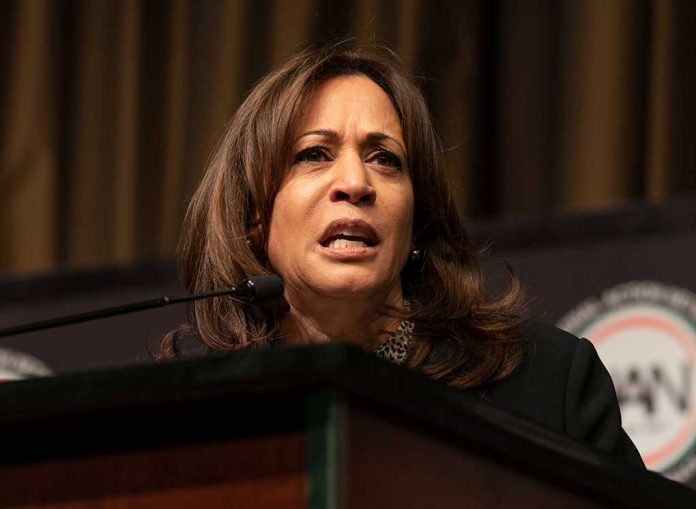 (RepublicanJournal.org) – Kamala Harris made waves as the first-ever female US vice president, setting herself up as a potential rising star in the Democratic Party. Her popularity didn't last long, with issues such as illegal immigration and border security quickly becoming thorns in her side. Speculations that she might run for the presidency in 2024 came and went like a passing rumor. A recent poll shows she's now even more unpopular than ever, and the loss of yet another staffer hasn't helped her image.
Approval Rating for Kamala Harris Dips As Her Office Loses Another Top Staffer https://t.co/zzUQqMbtvO

— Conservative Brief (@ConservBrief) January 12, 2023
Jamal Simmons, who began working under Harris in January 2022, was an asset in getting the team back on track after the vice president's shaky first year. POLITICO shared that the communications aide only agreed to take the position for the year, after which he planned to move to New York with his family. He called his time working with Harris "an honor and a privilege," and the staffer appears to be leaving on good terms. Harris' office is currently working to fill Simmons' position.
Still, Simmons' departure marks one of many the administration has seen in the vice president's wing since Harris first took office. According to a December 2021 Washington Post article, one former staffer claimed Harris was difficult to work for, calling her "a bully." Regardless of the reason, the turnover seems high. Most notably, Harris is on her third speechwriter, and Tina Flournoy, who served as her first chief of staff, quit in March 2022, after working under the vice president for only 15 months, according to Breitbart.
This newest vacancy comes when Harris could probably use Simmons' help the most. The LA Times reported her approval rate was down to 39% during the first week of 2023, with 53% of US voters unhappy with her performance. The near-consistent drops in figures also reflect eroding confidence in President Joe Biden, which might additionally influence her overall numbers.
Copyright 2023, RepublicanJournal.org