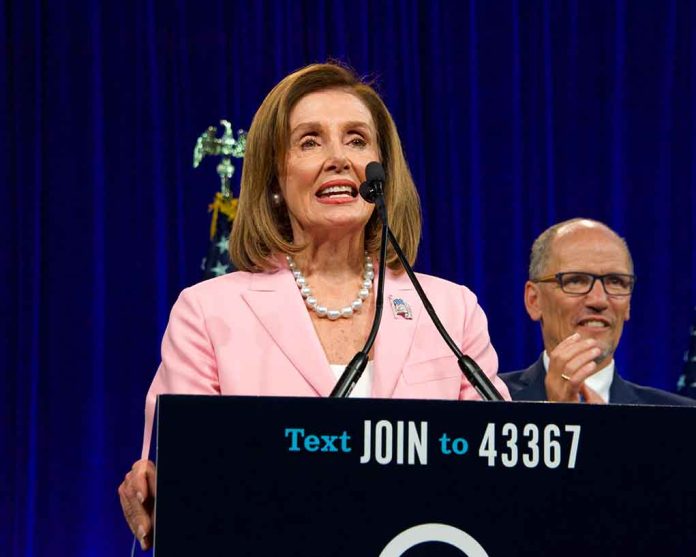 (RepublicanJournal.org) – House Speaker Nancy Pelosi (D-CA) has had a long political career. Some hail her as a political firebrand, while others view her as a divisive and dogmatic leader. However, it now looks as though the 81-year-old Democrat might finally be about to call time on her Congressional tenure. Rumors are swirling about her potential departure ahead of the midterm elections in 2022.
While Pelosi has yet to indicate an intention to retire herself, it looks as though her staffers might already be jumping ship.
Pelosi Staffers Head for the Exit
New data indicates that executives in Nancy Pelosi's office are quitting their jobs at a much higher rate than you'd usually see in Washington, DC. LegiStorm is a company that tracks critical information coming out of Capitol Hill, including who's working for each office. The firm's data show Pelosi's office had a staff turnover rate of nearly double the Congressional average in 2021. The company's metric for measuring staff turnover is weighted by salary.
This figure has arisen despite Pelosi's efforts to increase the salary cap for staffers last year, citing the pressures associated with COVID-19 and the storming of the Capitol Building on January 6.
Pelosi's most recent senior staffer to hit the road is former campaign Executive Director Jorge Aguilar. He left to join a bipartisan government relations firm called theGroup.
Who's Next in Line?
Nancy Pelosi has led the House Democratic caucus for 19 years, so her eventual departure will mark the end of an era for the chamber's liberals. However, speculation is already rife about who might take up her mantle.
The frontrunner at this early stage is reportedly Rep. Hakeem Jeffries (D-NY). He enjoys broad respect and popularity, but some critics have noted that he might struggle to appeal to the party's progressive wing due to his moderate stances and association with corporate interests.
Party insiders have noted that a person of color might be preferable for the position as the Democratic Party continues to try to stay as diverse as possible. This outcome would play in favor of Jeffries, who is black, but might go against other potential candidates, such as House Majority Leader Steny Hoyer (D-MD) and Rep. Adam Schiff (D-CA).
Do you think the exodus of staff from the speaker's office is a sign that she's gearing up to go as well? If so, who do you think will take her place?
Copyright 2022, RepublicanJournal.org