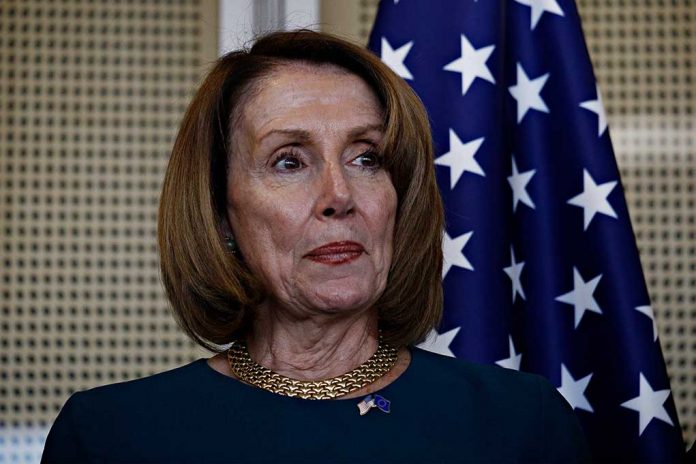 (RepublicanJournal.org) – "Peril" is the name of a new book by Bob Woodward and Robert Costa of The Washington Post. It details the end of Donald Trump's presidency as current President Joe Biden prepared to take over, a period the blurb calls "one of the most dangerous" in our country's history. The book shares damning insights about several key figures in Washington, DC, including House Speaker Nancy Pelosi (D-CA).
"Arrested on the Spot"
Woodward and Costa's tome reveals that Pelosi called for the arrest of then-President Donald Trump in the wake of the January 6 riot during a conversation with Joint Chiefs of Staff Chair Mark Milley. During that conversation, the speaker also called the democratically-elected president a "dictator" and claimed his public statements on January 6 amounted to a coup.
Pelosi sympathizers will undoubtedly accept statements like these as warranted in the face of Trump's perceived misbehavior in the White House. On the other hand, Conservatives will only see this as further evidence of the Speaker's lack of regard for democracy.
Pelosi vs. Trump: A History
Though few Democrats had anything good to say about former President Trump, Nancy Pelosi's distaste for him was unrivaled.
The Speaker organized Trump's first impeachment in 2019, alleging he committed an abuse of power and obstructed Congress. This accusation arose from a phone call Trump made to Ukrainian President Volodymyr Zelensky, during which Trump allegedly pressed the Ukrainian president to incriminate Joe Biden. The impeachment attempt failed, with only Senator Mitt Romney (R-UT) breaking party ranks to vote against Trump.
Pelosi believed, or claimed to believe, Trump's interactions with Zelensky rose to the level of criminality. However, she has not condemned President Joe Biden over his son Hunter's ties to Ukraine while Joe was vice president despite widespread speculation about the appropriateness of that relationship.
The second impeachment attempt against Trump came after the January 6 riot earlier this year, even though he had mere days left in office. Again, the procedure failed.
Revelations About Mark Milley
Costa and Woodward also share damning revelations about General Milley. Milley reportedly held secret calls with General Li Zuocheng of China's People's Liberation Army in October 2020 and January 2021. During these exchanges, Milley allegedly assured the Chinese general that the US would not attack China, and if an attack were in the cards, Li would receive a warning. Milley also went behind Trump's back to speak with other military leaders to ensure the president would not engage in nuclear warfare with China.
Calls for Milley's resignation followed these reports, but Biden says he has "great confidence" in the general.
How many more explosive revelations will we see upon the actual release of this book? Time will tell.
Copyright 2021, RepublicanJournal.org