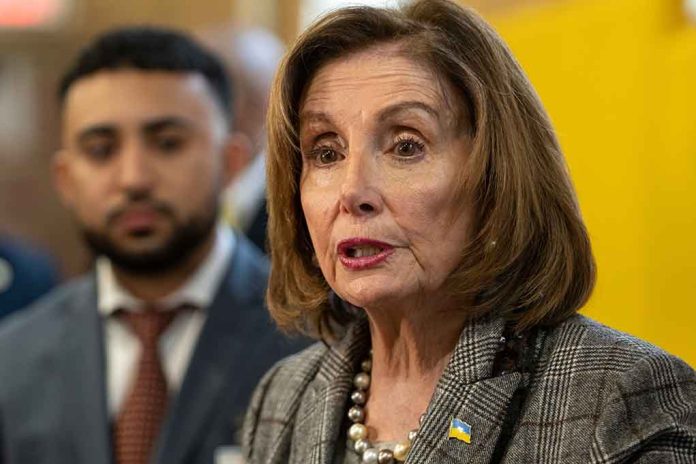 (RepublicanJournal.org) – Former House Speaker Nancy Pelosi (D-CA) had a decades-long career on Capitol Hill, where she was the first woman to lead a major political party in Congress. Not surprisingly, this success gained her quite a large following of supporters who cling to her every word and policy. She's since stepped down from her post as Speaker of the House, but the California Democrat still has a lot to say these days, especially about the politicians who disagree with her.
During an exclusive interview with John Casey of the progressive news site Advocate, Pelosi insulted GOP lawmakers by calling them "losers" and pretending to brush them out of her space with her hands. When Casey asked his interviewee about the "hateful legislation in state Houses all over the country," Pelosi emphasized how Republicans are "losing on guns" and "losing on women's right to choose." She then went on to say that drag is not a threat, and so the right-wing party will "lose on that too." Rather than engaging in an intelligent debate of different political stances, Pelosi appeared to go straight to insults.
'They're Losers': Pelosi Reacts To GOP Focus On Trans Issues https://t.co/jw2sNSqXh5 pic.twitter.com/s9R3uuf0wV

— Daily Wire News (@DailyWireNews) May 1, 2023
Pelosi believes that Republicans are pushing back on progressive issues, such as women's and LGBTQ+ rights, because of their "hate" for these people rather than anything else. She failed to counter the most common argument from the GOP is that the laws they are passing across the nation in conservative states are not exclusionary. They simply prevent biological males with physical advantages from participating in women's sports and ensure children do not attend events with sexually explicit content, such as drag shows, until they are older.
Pelosi also said that she hopes more LGBTQ+ people can make it into elected positions in our government to continue fighting for the expansion of freedom and marriage equality in the US.
Copyright 2023, RepublicanJournal.org