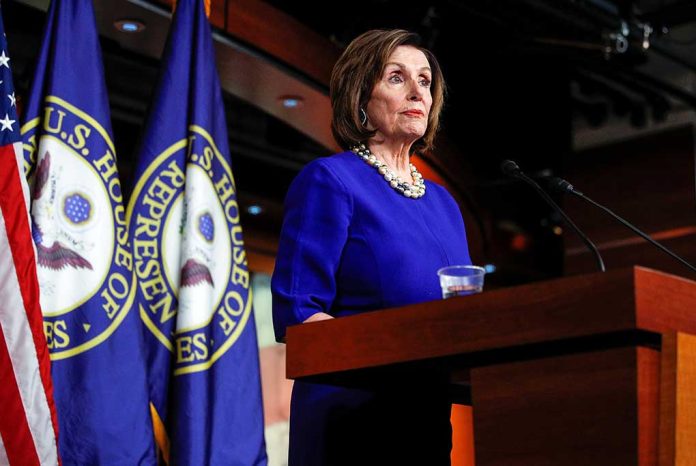 "Illegal" Act DECLARED – Pelosi Asked To Step In!
(RepublicanJournal.org) – President Joe Biden is facing significant backlash for the recently announced student loan forgiveness program. Opponents feel the measure to drop thousands of dollars in debt obligations is unfair to people who've already paid their share. Now, there might be a legal problem with the sweeping forgiveness, and over 90 Republicans are reaching out to House Speaker Nancy Pelosi (D-CA) for help.
Congress Calls for Backup
On August 26, a group of lawmakers penned a letter to Pelosi with concerns that Biden acted illegally when he announced the debt cancellation. They stated the program will end up costing American taxpayers upward of $300 billion while setting a "terrible precedent."
The politicians pointed out that the commander in chief failed to mention how he could legally make such a change that impacts so many. They called on the House speaker because she too, at one time, did not believe Biden had the power to forgive the debt on his own.
In July 2021, the California lawmaker participated in a press conference at the Capitol Visitor Center in Washington, DC. During the back and forth, a reporter asked Pelosi about canceling student loan debt and how the president could go about making the move. The long-time politician insisted the US leader only had the power to "postpone or delay" debt collection, stating anything more drastic would require an "act of Congress."
Some members of the House are now asking the California Democrat to stand by her original words and oppose the president's "blatant overreach."
Pelosi's Quick Shift and Response
Shortly before Biden announced the forgiveness program, Pelosi did a complete 180-degree turn. In a roundtable discussion in Las Vegas on August 23, a reporter asked the Speaker about student loan forgiveness once again. This time, the legislator said she was surprised to learn the president had the authority to wipe out $10,000 in loans for those making under $125,000 annually. In fact, the experienced legislator said she was "excited" about the possibility. Given her odd flip, her projected response to the recent call from her Republican colleagues is unclear.
Before making the decision, Biden himself was uncertain about his full powers, asking some federal departments to look into the legality of the measure. They concluded he could use the HEROES Act of 2003 to cancel the debt.
Still, those who wrote the letter, along with former Education Secretary Betsy DeVos, believe the forgiveness is an illegal move that must be rescinded.
Do you think Pelosi will join the 94 Republican lawmakers in their quest to reverse the president's most recent decision?
Copyright 2022, RepublicanJournal.org