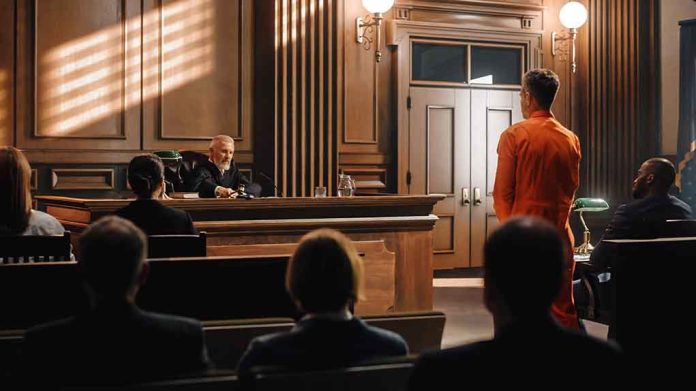 (RepublicanJournal.org) – A left-wing activist will get off with no more than 10 years in prison after killing a teenager. The shock decision comes after a North Dakota district attorney downgraded the charge against him from murder to manslaughter.
Left-Wing Radical Gets Sweetheart Plea Deal in Killing of Conservative Teen via @nationalfile https://t.co/EI863a7HxF

— Daxton Brown (@daxtonbrown) May 19, 2023
On September 18, 2022, Cayler Ellingson, an 18-year-old from Grace City, North Dakota, went to a street dance festival in nearby McHenry. While there he ended up in a discussion with a drunk 41-year-old left-wing political activist, Shannon Brandt. The two argued about politics for a while. Later, after the festival, Ellingson started to walk home. He never made it. As he called his mother to say he was worried he was being pursued and needed her to pick him up, Brandt ran him down in his SUV, killing him. He then called cops to tell them he'd killed the teenager and fled the scene. He was arrested later at home.
Brandt was initially charged with criminal vehicular homicide, driving under the influence and leaving the scene, but after a national outcry — including comments from former president Donald Trump — the homicide charge was upgraded to murder. Now Foster County State Attorney Kara Brinster has downgraded it again, to manslaughter. Brandt's attorney says that was Brinster's decision, even though there hasn't been a plea deal. He also claims there's "no evidence" to support allegations of deliberate homicide.
The problem is there is evidence Brandt meant to kill Ellingson. In his initial call to police, he admitted he'd killed his victim because he was a "Republican extremist." Incredibly, he was then released on just $50,000 bail — and now Brinster is pushing the story that Ellingson died because Brandt was driving "erratically." On May 18 she allowed him to plead guilty to a single charge of manslaughter then dropped the DUI and charges against him for leaving the scene.
The removal of those charges means there are no aggravating circumstances, and the maximum penalty Brandt now faces is 10 years in prison. However, there's also a possibility he could get away with probation and walk free.
Copyright 2023, RepublicanJournal.org