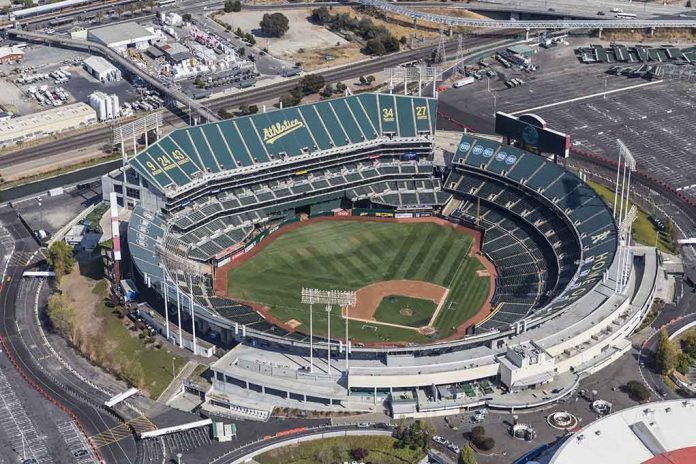 MLB Firework Show GONE WRONG – "Celebratory Gunfire" Reported!
(RepublicanJournal.org) – Millions of people buy stadium tickets, grab their foam fingers, and head to the ballpark this time of year to enjoy America's pastime — baseball. At RingCentral Coliseum, after the Oakland A's beat the Toronto Blue Jays on July 4, the excitement spun out of control, leading to multiple injuries from "celebratory gunfire." Four people in total reported wounds from the incident.
Oakland A's MLB Fans Injured by 'Celebratory Gunfire' During Post-Game Fireworks Show

Police say "celebratory gunfire" was occurring throughout the city on July 4th, despite California's strict gun control lawshttps://t.co/DegirS7xJX

— National File (@NationalFile) July 7, 2022
Luckily, none of the victims were gravely injured, with none shot directly but instead catching stray bullet fragments. Authorities in Oakland, California, are offering a $20,000 reward for any information leading to the close of the case.
Police believe the event happened outside of the stadium itself after a fireworks display in celebration of the 4th and the Oakland team's victory. Reports state the shooting was not isolated to one area, as gunfire erupted in various locations across the city that evening. Considering the strict gun laws in the Golden State, people discharging weapons so haphazardly is surprising.
The police and the Oakland A's issued a statement on July 5 encouraging anyone with information to come forward by calling 510-238-3426.
As of the time of this writing, no arrests have been made, and California Governor Gavin Newsom (D) has not publicly spoken about the scene.
Copyright 2022, RepublicanJournal.org