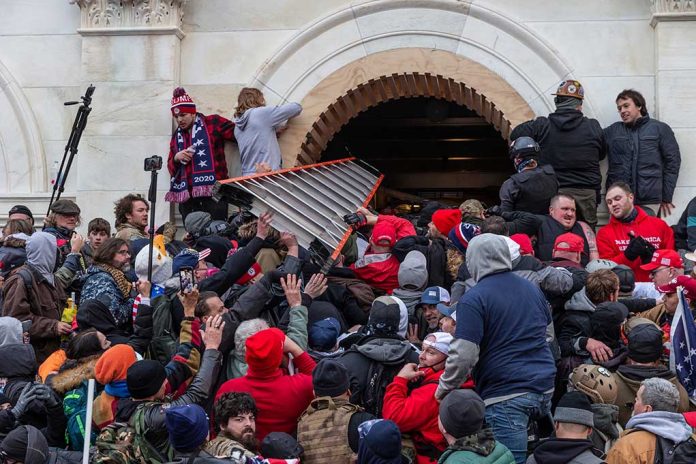 Trump Supporter May Face 23 YEARS In Prison – You're Kidding?!
(RepublicanJournal.org) – An Army reservist from New Jersey traveled to Washington, D.C. on January 6, 2021 and participated in the attack against the Capitol. Police arrested Timothy Louis Hale-Cusanelli in 2021 for disrupting Congress — a felony — and other charges for which he faces up to 23 years in prison.
Timothy Louis Hale-Cusanelli, a US Army reservist from #NewJersey, was found guilty on misdemeanor and felony charges related to the Jan. 6 US Capitol Breach. https://t.co/Z8Ws75JQxR

— The Epoch Times (@EpochTimes) June 1, 2022
Hale-Cusanelli was found guilty by a court of law on May 24. In addition to the felony charge, the former reservist is guilty of four misdemeanors including disruptive conduct, disorderly conduct, parading inside the Capitol building, and entering and staying in a restricted area.
Accompanying his legal punishment, the reservist was stripped of his security clearance by the Army following his January 15, 2021 arrest.
Prosecutors showed evidence that put Hale-Cusanelli at the scene and showed him leading the pack to "advance" on the government building while Congress was in session. Reports show the ex-soldier was hoping for a civil war.
While on trial, the man defended himself by claiming to be unaware that members of Congress were meeting inside the Capitol building. He said his lack of knowledge made him "feel like an idiot." However, the court didn't buy his excuse, finding him guilty on all charges.
Hale-Cusanelli has spent the time since his arrest in solitary confinement. Sentencing is scheduled for September 16, when the judge will decide his full punishment.
Copyright 2022, RepublicanJournal.org