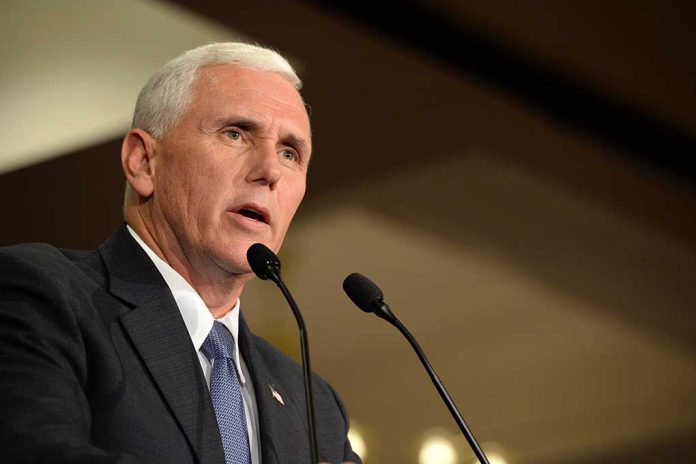 (RepublicanJournal.org) – Former Vice President Mike Pence recently sat down for an interview with CBS correspondent Caitlin Huey-Burns to discuss the past and current political climates. The reporter asked more than once whether he would endorse Donald Trump's 2024 run, and both times Pence skirted around the question.
Pence — Who Was Hunted By Trump Supporters on Jan. 6 — Twice Refuses to Say He Will Support Trump in 2024 https://t.co/wTmPAUVGZ6

— Mediaite (@Mediaite) March 2, 2023
Pence also avoided speaking ill of his former boss, stating, "negative personal attacks have no place in public life." He conceded that Trump's administration had ended on a sour note, but he was still proud of everything they accomplished during their four years in office. He listed strides they made in the economy, border security, and the appointment of three conservative Supreme Court Justices. The former vice president compared these many victories with the Biden presidency's numerous disasters, specifically pointing out the deadly Afghanistan withdrawal, "runaway spending in Washington, DC," and "a steady assault on values and liberties."
Pence didn't have much to say about Trump regarding the January 6 Capitol riot, although he agreed with House Speaker Kevin McCarthy's (R-CA) decision to release the video footage. "I was there," he said, adding the American people could learn invaluable lessons from mistakes made during and leading up to that day.
Despite all that occurred, even after the backlash during which an angry crowd might have dragged the vice president off to makeshift gallows, Pence has continued to defy subpoenas compelling him to testify about his experience. He feels forcing a former vice president to testify against the president he served under, regardless of whether it's for a criminal investigation, is both "unprecedented" and "unconstitutional."
When the questioning turned to the policies he might pursue if he were to run for president, Pence replied that he and his wife continued to pray over the matter. He said Americans could expect the same conservative platform he followed under Trump if he chooses to run.
Copyright 2023, RepublicanJournal.org