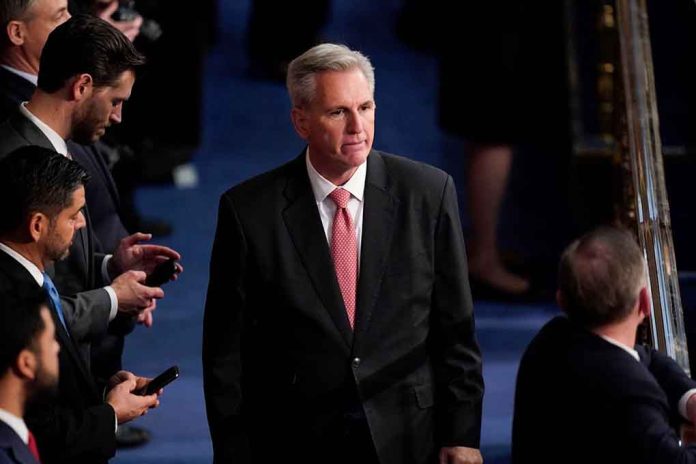 (RepublicanJournal.org) – For years, footage provided by the Democrat-led House January 6 Committee was the only evidence Americans saw from inside the US Capitol building on that pivotal day early in 2021. Now, though, the new House speaker has vowed to allow all news outlets to get their hands on the revealing videos after letting Fox News share some of it on Tucker Carlson's show.
On Monday, March 6, Tucker Carlson shared some security footage provided to him by House Speaker Kevin McCarthy (R-CA). The video, which showed Capitol Police Officer Brian Sicknick walking around the Capitol before he died the following day, became quite controversial. Many people, including Sicknick's family, accused the House speaker of showing footage that only supported his side of the story.
Despite this criticism, on Sunday, March 12, in a discussion with Maria Bartiromo on Fox News' Sunday Morning Futures, McCarthy vowed that he would provide the same 41,000 hours of video evidence to "every individual news agency," so they could air what they would like as well. He emphasized that his "goal here is transparency."
McCarthy says Republicans will 'slowly roll out' Jan. 6 footage to 'every' news agency: 'Goal is transparency' https://t.co/q7HEZL8w3g

— Fox 40 News (@Fox40News) March 13, 2023
During the interview, the House speaker highlighted how some violent protests occurred in the summer of 2020 without any arrests, but when the Capitol protest occurred in 2021, many people fell into police custody. With this example, he followed through with his belief that "we need to have equal justice across this nation."
Representative Michael McCaul (R-TX) also shared on Sunday, March 12 with CBS' "Face the Nation" that McCarthy assured him the footage would soon be available to all media agencies interested in reviewing it. However, he warned it would reveal "a very dark, tragic day" with many injuries, including one death.
While the 41,000 hours of video will soon be available to most news sites, it will certainly take a bit of time for the outlets to sort through. In the coming months, Americans will get more insight into what happened in the government buildings on January 6 and be able to draw their own conclusions from the footage.
Copyright 2023, RepublicanJournal.org