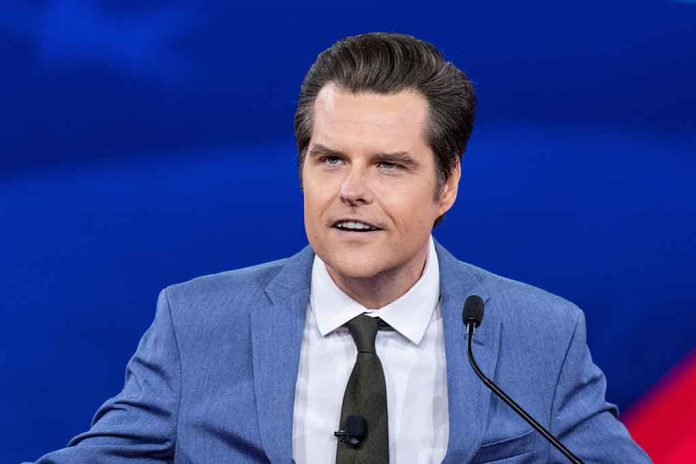 (RepublicanJournal.org) – House Speaker Kevin McCarthy had a difficult road to his current leadership position. After numerous negotiations with his fellow Republicans, he finally made enough concessions to win the vote. During that process, Republican Representative Matt Gaetz (R-FL) repeatedly criticized McCarthy. Now, he would give that same lawmaker an "A" for his work in the lower chamber.
Gaetz Tries to Get McCarthy Kicked Out of Speaker's Office
On January 3, Gaetz wrote to the Architect of the Capitol to tell them McCarthy was using the Speaker of the House office even though he was not yet officially the legislature's leader. He asked how long the lawmaker could be there "before he [was] considered a squatter." This was just one of the many criticisms lobbied against his fellow Republican.
Despite that, just over a month later, Gaetz has done a complete U-turn.
Florida Lawmaker Grades McCarthy
During an interview with Just the News on Monday, February 6, Gaetz told listeners that he "give[s] Speaker McCarthy an A for his work so far." His reasoning stems from the fact that he and other far-right lawmakers got multiple "tools" to push their agenda during McCarthy's negotiations to get their vote to become House Speaker.
From 'Never Kevin' to convert: Gaetz 'would give Speaker McCarthy an A for his work so far' | Just The News https://t.co/tYHjZFMgCI

— TruthNews (@TruthNews2day) February 8, 2023
Gaetz highlighted that rather than one major bill, he will try and use multiple smaller bills to change the nation. He hopes to strengthen US borders, balance the federal budget, and ensure Democrats in office do not abuse their power or get paid too much.
In a similar vein, Representative Bob Good (R-VA) also told Just the News that McCarthy is "doing a great job." Good also spoke out against the Speaker when he was trying to rally votes for his confirmation. The Virginia lawmaker emphasized that McCarthy is "doing and saying the right things" and uniting the party once again.
McCarthy's Work Thus Far
One of McCarthy's first wins in the 118th is his bipartisan House Select Committee on the Strategic Competition Between the US and the Chinese Communist Party (CCP). In a 365-65 vote on Tuesday, January 10, the House approved the formation of the group, which will research and address the various threats that the CCP throws toward America. This development came just weeks before China floated a surveillance balloon across the US and multiple military installations housing nuclear information and material.
McCarthy also kicked two California Democrats off of the House Intelligence Committee and rallied his party to boot Representative Ilhan Omar (D-MI) off the Foreign Affairs Committee in light of her track record of anti-Semitic remarks. With this momentum and wide support from his party, McCarthy is on track to get much more done in the coming months.
Copyright 2023, RepublicanJournal.org