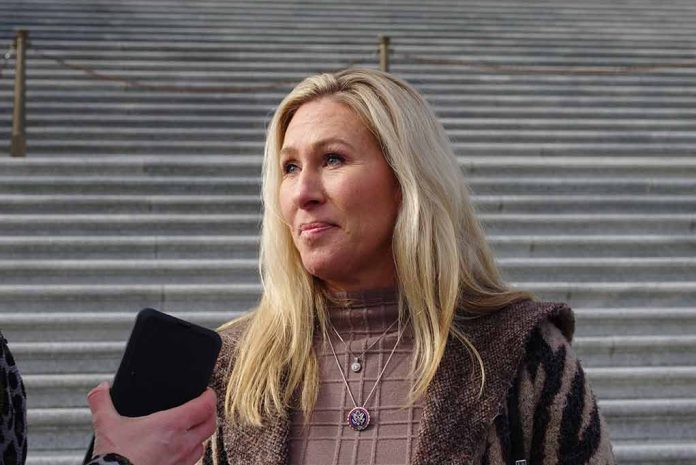 (RepublicanJournal.org) – Americans eagerly awaited the results of the recent FBI investigation into who leaked numerous classified intelligence documents onto the social media site Discord. On Thursday, April 13, federal authorities showed up at the home of 21-year-old Air National Guardsman Jack Teixeira and arrested him for allegedly leaking the documents and photos revealing American secrets. In the days that followed, many lawmakers reacted, including House Representative Marjorie Taylor Greene (R-GA), who shared some controversial comments on the young man.
Just hours after federal agents arrested Teixeira at his Massachusetts home, Greene posted the following statement on Twitter:
Jake Teixeira is white, male, christian, and antiwar.

That makes him an enemy to the Biden regime.

And he told the truth about troops being on the ground in Ukraine and a lot more.

Ask yourself who is the real enemy?

A young low level national guardsmen?

Or the…

— Rep. Marjorie Taylor Greene🇺🇸 (@RepMTG) April 13, 2023
Greene seems to be implying that the Biden administration is the "real enemy" in the current situation, downplaying the fact that Teixeira shared classified US military information about troops in Ukraine, among other international issues, with the entire world. If convicted of his charges, Teixeira could face up to 15 years in prison for the unauthorized sharing of national defense information and unauthorized removal of classified documents or materials.
Sunday, April 16, on ABC's "This Week", Senator Lindsey Graham (R-SC) said that Greene's words about Teixeira were "one of the most irresponsible statements she could make." He also highlighted that there are men and women serving in the US armed forces from Georgia, the state Greene represents, "who are less safe because of what this airman did." The GOP Senator finished his discussion about Greene's comments by emphasizing that any US lawmaker who believes, encourages, or agrees with leaking secret military intel "because [they] agree with the cause is terrible[sic] irresponsible and puts America in serious danger."
This intelligence leak, which was the largest of its kind in at least a decade, will certainly force the US government and Department of Defense to rethink who has access to classified information and how the files are stored. Teixeira had served in the military as a "cyber transport systems specialist," according to The Guardian. He returns to court on Wednesday, April 19.
Copyright 2023, RepublicanJournal.org