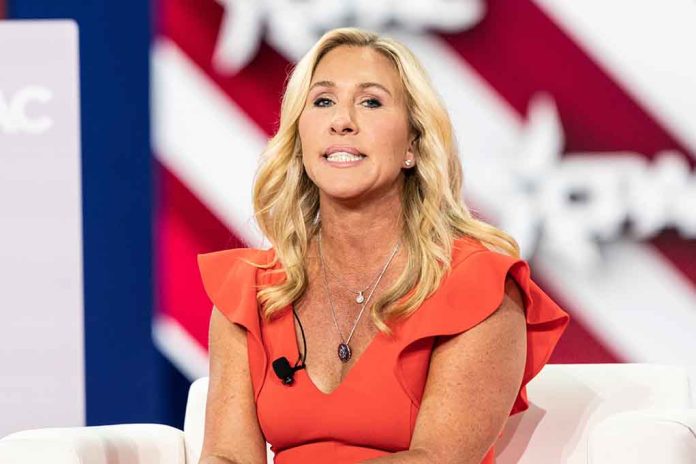 (RepublicanJournal.org) – Incoming Representative George Santos (R-NY) has already found himself at the center of controversy, even before officially taking New York's 3rd District seat. Members of the Left have accused the Republican of lying and have even demanded he resign. Representative Marjorie Taylor Greene (R-GA) recently came to her future colleague's defense.
In a series of tweets, the congresswoman mentioned the Democratic push to get Santos to resign over his dishonesty. The New York Republican had claimed to be Jewish and said he worked for prominent financial companies, though he admitted both claims were untruthful and apologized for the embellishments in an exclusive interview with the New York Post.
George Santos lied about his resume, and the left is demanding he resign.

Ilhan Omar says she didn't marry her brother, she lied.
Elizabeth Warren said she was Native American Indian, she lied.
The left said George Floyd didn't die of a drug overdose, they lied.

1/3

— Rep. Marjorie Taylor Greene🇺🇸 (@RepMTG) December 27, 2022
Greene admitted that Santos lied on his resumé and then went on to provide several instances in which she believed Democrats were lying. She pointed at Representative Ilhan Omar (D-MN), who is allegedly married to her brother, and Adam Schiff, who claimed to have evidence of Donald Trump's alleged collusion with Russia.
The Georgia conservative continued to attack the Left, insisting they "don't care about lying," before asserting the real reason Democrats hated Santos was because he was the first openly gay Republican elected to Congress. Greene noted she's happy the New York Representative is being honest with voters now, adding how she looks forward to seeing how he performs.
Robert Zimmerman, the Democrat who lost to Santos in the 2022 midterms, demanded the Republican resign and face him in a special election, noting that voters now know the truth.
Copyright 2023, RepublicanJournal.org