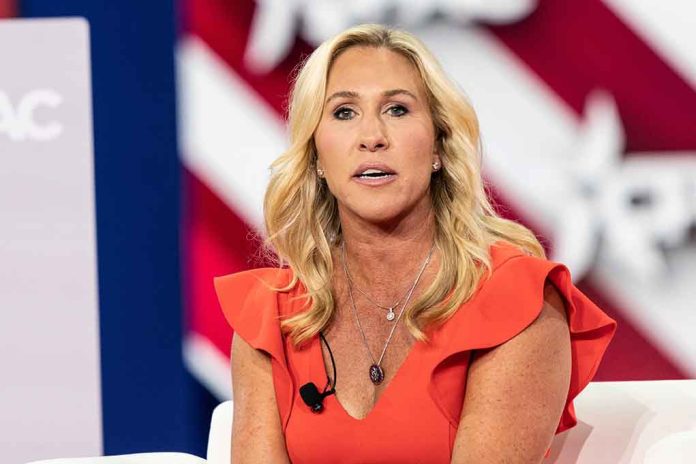 (RepublicanJournal.org) – The February 4 takedown of a high-altitude Chinese spy balloon off the coast of South Carolina, after an eight-day journey across the continental US, prompted Republican anger. Rep. Marjorie Taylor Greene (R-GA) shocked an enthusiastic crowd into silence on Saturday, February 11, when she compared the administration's lackluster response to the spy vessel to 9/11.
Greene spoke in Coeur D'Alene, Idaho, to the Kootenai County GOP Central Committee on Saturday. She spoke about the Congressional briefing lawmakers received on Thursday, February 9, where officials explained that they were aware of the spy vessel, but military analysts had advised against shooting the balloon down over land. According to media sources, she stated, "The excuses that were given on this were pathetic, absolutely pathetic." Additionally, she expressed skepticism that "it was too risky to shoot down a Chinese spy balloon."
Marjorie Taylor Greene used the death count from hijacked 9/11 Flight 93 to minimize the risk of shooting down the spy balloon.

MTG: "Do you guys remember on 9/11 when an airplane crashed in Pennsylvania? …It killed everyone on board, but it didn't kill anyone on the ground." pic.twitter.com/uznQZ4zmk6

— PatriotTakes 🇺🇸 (@patriottakes) February 13, 2023
Still, Greene shocked her audience when she asked them if they remembered the plane that crashed in a field in Pennsylvania on 9/11 — United Airlines Flight 93. Her point was that an entire airliner came down that day without killing or injuring anyone on the ground, even though everyone onboard the plane died on impact. The balloon traveled over states with large swaths of unpopulated areas, including Alaska, Idaho, and Montana, allowing the military and the administration to take down the threat much sooner, Greene said.
Frustrated, Greene characterized the administration as "Either they're liars or they're cowards, or our president has sold out to China." While the crowd remained mostly silent during her remarks about 9/11, they cheered her criticisms of Biden and his decisions.
On Thursday, February 9, the House unanimously passed a resolution condemning the Chinese Communist Party for the spy balloon's "brazen violation of United States sovereignty." Several GOP lawmakers, including Sens. Tom Cotton (R-AR), Steve Daines (R-MT), Roger Marshall (R-KS), and Lisa Murkowski (R-AK), expressed anger and frustration. Reps. Mike Waltz (R-FL), Michael McCaul (R-TX), Russell Fry (R-SC), and Ann Wagner (R-MO), among others, also joined in the criticism.
On Monday, February 13, President Biden ordered the formation of an interagency task force to study Unidentified Aerial Phenomena after US forces took down three more objects over the weekend above Alaska, Canada, and Lake Huron, respectively.
Copyright 2023, RepublicanJournal.org