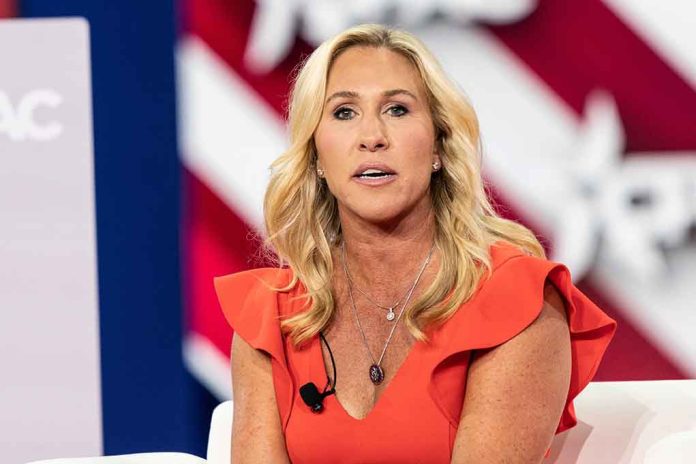 (RepublicanJournal.org) – Georgia Representative Marjorie Taylor Greene has left a wake of controversy ever since she began voicing her support for imprisoned January 6 rioters. Her vocal backing of former President Donald Trump and his allegations of widespread fraud tipping the 2020 election scales might have enraged the far-Left, but it didn't affect her eligibility to remain in her seat for another term. Now, following the latest round of controversial comments from Greene, liberals are taking one more stab at the ultra-conservative, with some even calling for her arrest.
The offending statement came during the New York Young Republican Club's 110th Annual Gala on December 10. Greene was attempting to joke in response to continued allegations that she had been part of planning the January 6 tragedy. She insinuated that the rioters would have been both armed and victorious if she and Steve Bannon, one of former President Trump's political advisors, had been in charge that day.
Marjorie Taylor Greene's January 6th comments at last night's New York Young Republican Club Gala:

"I got to tell you something, if Steve Bannon and I had organized that, we would have won. Not to mention, it would've been armed." pic.twitter.com/KtiecOAlgd

— PatriotTakes 🇺🇸 (@patriottakes) December 11, 2022
Some people apparently didn't get the joke.
Marjorie Taylor Greene faces arrest calls over "armed" Jan 6 comments https://t.co/pqoZsBmX06

— Glenna Blau (@GlennaBlau3) December 13, 2022
Left-wing reporter Keith Olbermann took to Twitter to demand the representative get put away in jail for the statement. Newsweek reported on numerous other liberals and left-leaning activist groups, including Occupy Democrats, who shared his extreme views.
Did Greene speak out of turn? If so, were her words grounds for an arrest?
Copyright 2022, RepublicanJournal.org