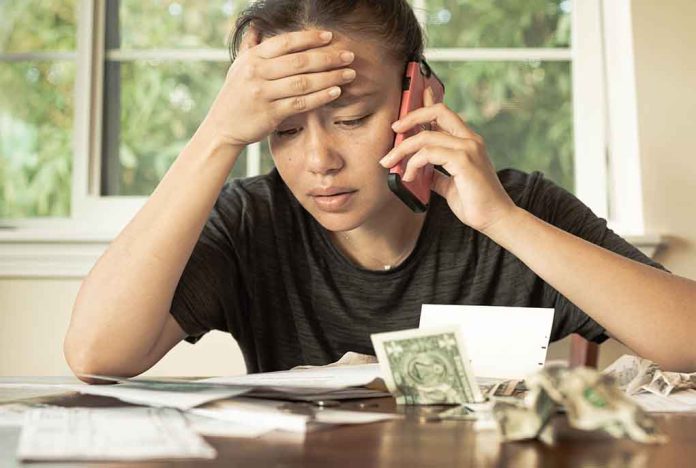 Disaster HITS Americans – New Numbers Released
(RepublicanJournal.org) – It's no secret that these are difficult times for Americans. As the COVID-19 pandemic winds down, other problems are coming along in the wake of the virus. The most potent of issues at the moment is inflation, and a new survey has shed some light on just how serious our financial problems are becoming.
On Tuesday, May 24, The Hill released an exclusive report on the results of a new voter survey from Harvard CAPS/Harris Poll. The study found that a majority (56%) of respondents believe their financial situation is getting worse at the moment — a marked increase on the result of the same poll last month, when just 48% of respondents said their situation was worsening.
Majority of U.S. Voters Say Their Financial Situation is Worsening

Just 20% of respondents to a recent Harvard CAPS/Harris survey said their financial situation was improvinghttps://t.co/WQCWGvaQIw

— National File (@NationalFile) May 24, 2022
The situation is degrading at the other end of the spectrum, too. The Hill reported that just 20% of poll respondents feel their financial situation is getting better at the moment. That figure is close to an all-time low in the poll.
When considered in the context of the current inflation rate, these results are perhaps unsurprising. Trading Economics reported that the rate of inflation in March of this year was 8.5%, the highest level it reached in just over four decades. It fell to 8.3% in April. Meanwhile, the Biden Administration pushes the narrative that inflation, soaring gas prices, and rising food costs are all due to Putin and the Ukraine-Russia conflict, but who is really to blame?
Copyright 2022, RepublicanJournal.org